If you are a Vegetarian in Tulum, Mexico, we got you, fam. We spent two months in Tulum trying all the best vegetarian restaurants so that we can give you our favorite list in this complete guide.
Even better, many of these options are cheap vegetarian eats where you can get an entire meal (entree + drink) for $8 USD or less. I'll include what we paid at each Tulum restaurant.
Table of Contents
Burrito Amor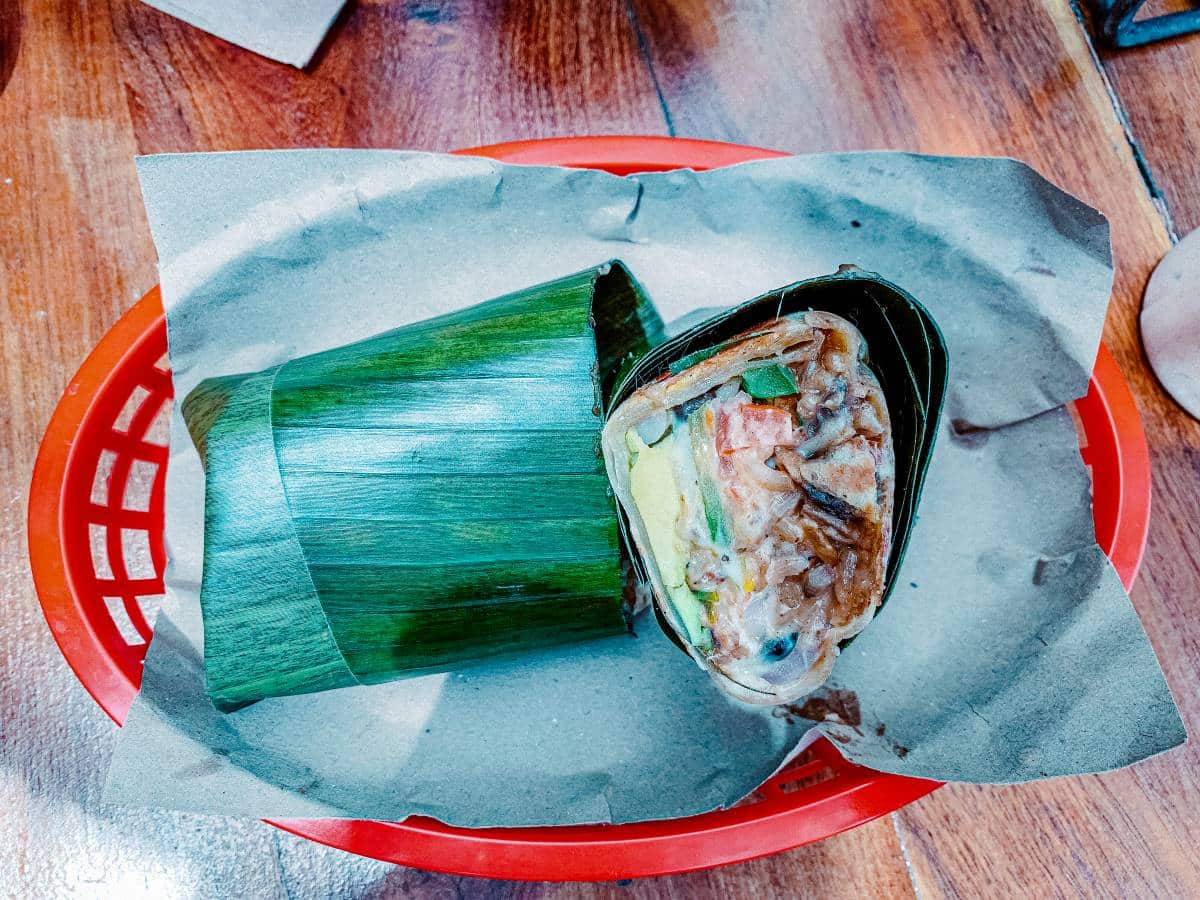 If you're researching vegetarian eats in Tulum, you'll likely see Burrito Amor on every list in downtown Tulum. It deserves its reputation as the best burrito in Tulum and is so fricking delicious. I recommend a vegetarian or vegan burrito topped with some of their homemade chipotle sauce.
It's easily the best burrito I've ever had. In fact, I may be eating one of Burrito Amor's burritos while I type this.
The burritos are, on average, $5 USD. I also love that they serve fresh fruit smoothies and all day breakfast (try the avocado toast)!
It is super hyped, but we promise it deserves to be on this list! They wrap their burritos in a banana leaf which makes for a really interesting taste. They have cactus burritos, too, and they are SUPER unique.
Pro tip: Use the sauces they give you; they're all vegan!
Ke Kekas
This adorable hole-in-the-wall, Ke Kekas, is run by a sweet family and is one of the newest places in town. We chatted with the owner a bit, and he had only been open for two months!
I highly recommend the poblano and potato Oaxaca quesadilla, which is a filling meal for only $2.50 USD. The owner makes his own sauces by hand, and the red sauce is perfect, especially combined with how good the quesadillas are.
Note: He also sells huitlacoche which is a regional Mexican delicacy. It's known as Mexican truffles and is earthy and mushroomy. Huitlacoche is not my vibe, but this is the perfect place for you if you are an adventurous eater.
If you're headed to Tulum, check out whether you should stay in Tulum Town or the Tulum Beach strip (and find out where I decided to stay for two months).
Pizzeria Manglar
Wood-fired personal pizzas for $7?! Cute vibes in La Veleta? Pizzeria Manglar is the perfect spot for a laid-back dinner. It deserves to be on this list of the best vegetarian restaurants in Tulum.
It's easy to split the pizza with someone, too. Your total dinner bill would be $3.50 USD a person - not shabby, considering Tulum is the most expensive place in Mexico.
The pizzas all have fresh ingredients and are incredibly delicious.
Tropi-Q
This adorable little cafe, Tropi-Q, is located conveniently in town and has excellent home-style Mexican staples. It has the best green juices in town, we promise!
Run by a two-generation family, it feels like you are home immediately, and the food is so comforting.
This restaurant in Tulum is also super affordable, with lots of vegetarian options and the freshest ingredients. We spent less than $8 per person every time we went for an entire plate of food AND the green drink pictured above.
I always get the papas y Chaya, a regional vegetarian dish. It comes with freshly made tortillas, beans, and veggies, creating the perfect lunch. Each entree is $3-5 USD, and cooling down with green juice for $2 can't be beat. The juice is made with freshly picked greens from the owner's backyard.
Can't recommend this place enough. Try the potatoes!
Palma Central
This isn't technically a vegetarian restaurant, but it's better. It's like 15 restaurants in one because it's a food truck park with anything your heart desires, including many Mexican classics.
Palma Central is in the open air, located right in the downtown area of Tulum. I've been a few times and have never spent more than $6 on any entree at the food trucks and taco stands.
Check out my Palma Central blog post about why I love the food truck concept.
I got a vegetarian Cubano sandwich the first time I went and, most recently, a fully loaded baked potato for only $3. Palma Central is a great place if you are, or travel with, a picky eater. There's a food truck for everyone here!
Curry by Po Thai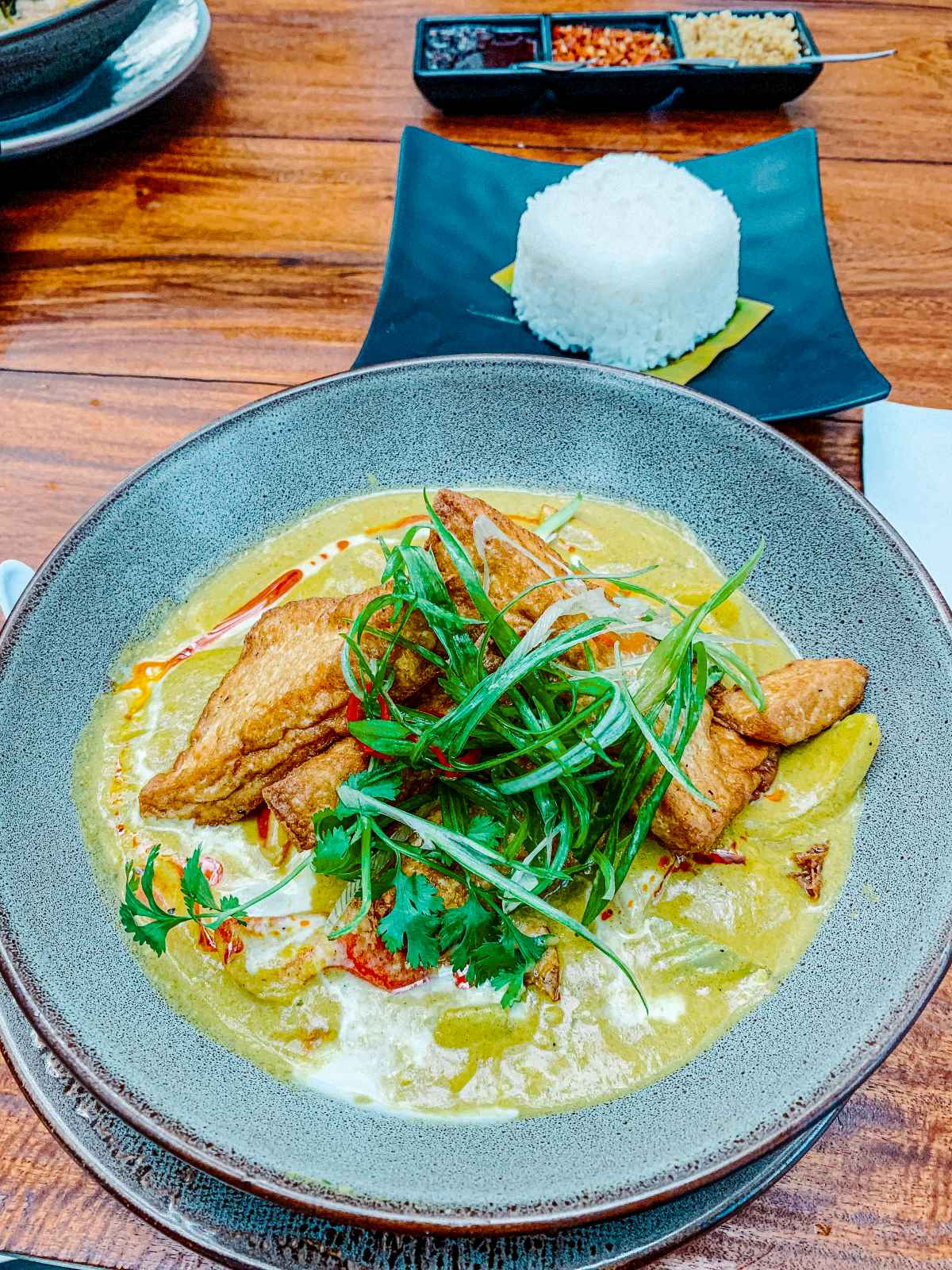 This isn't the best Thai food I've ever had, but it's the best you'll find in Tulum. Curry by Po Thai is a good option if you're craving something other than traditional Mexican food. It has many vegan options and delicious dishes made with fresh vegetables--great for vegan travelers!
For some reason, I kept craving Thai food and kept ending up here. The staff was lovely, and the tofu was cooked wonderfully. The pricing was more than most on this list, around $20-$25 a plate.
Kitchen Table
Kitchen Table is another one of the "high-end" options on this list and may be the best vegetarian restaurant in Tulum. I wrote a complete Kitchen Table review with pictures of the different dishes we ordered. Pictured above is our sope appetizer with black beans.
We ordered appetizers and entrees, and each entree was under $25. It was a great value. The meals came with refreshing passionfruit soda.
The unique atmosphere made the price worth it (eat in the outdoor seating area surrounded by palm trees!), and a great spot for a date night. The food was delicious!
Antojitos la Chiapaneca
This is an amazing place for vegetarian food in Tulum. Everything on the menu at Antojitos la Chiapaneca is about 90 cents USD and super tasty. We tried pretty much everything on the menu. The vegetarian taco with fried corn tortillas was my favorite!
Keep in mind that they don't take credit cards, so bring your pesos!
There you have it! Vegetarian Tulum Restaurants are pretty common, thankfully. So if you're in town, you won't struggle to find things to eat. It seems like new plant-based restaurants are constantly popping up in Tulum.
Is there something that should have made this list? Are you vegetarian in Tulum? I'm always fond of finding great holes in the walls and would love to hear your thoughts! You can find me on Pinterest @livingfullestblog.