This is the best hotel in Coron Palawan if you're looking for a relaxing place to stay. The Two Seasons is easily the nicest hotel in all of Coron Town and is located on the peaceful outskirts of the islands. At the time of our stay, we paid $350 a night and stayed for two nights.
Don't overlook the Two Seasons Coron Bayside Hotel if you are craving majestic ocean views, sweeping mountains in the distance, and a reliable and comfortable hotel room!
If you're looking for a Coron Island resort instead of a Coron Town hotel (it's confusing, right?), read my post about the Best Resorts in Coron. And while you're planning your trip to the Philippines, be sure to check out my must-know tips when taking the Coron to Manila Ferry.
In my blog Two Seasons Coron review below, I'll go into the details of our stay.
Table of Contents
🏨 How we ended up staying at the Two Seasons Coron Bayside Hotel
Fun fact ... I wasn't originally going to stay here. When I booked my first hotel, I booked our stay based on my feelings about what a three-star hotel would be like here in the United States.
I won't name the original hotel I stayed at in Coron Town, but I will say it is different standards than American 3-star Hotels.
To top it off, the power grid in the Philippines is unstable, and the power at our former hotel would go out every hour at the bare minimum. This meant our air conditioning kept going out, and that was not a fun trip during the hot summer.
I've never stayed at a 5-star hotel in the states. But after reading the resort reviews, we decided to switch to the Two Seasons Coron Bayside Hotel, and I'm so glad that we did.
⭐ Why this is the best hotel in Coron Town
Before our trip to the Coron, a common complaint I heard about the hotels in the area was that they could be underwhelming. As an island town, everything has to get boated in, so they lack the resources of mainland destinations.
The Two Seasons Coron Hotel goes above and beyond to break that stereotype!
In our two nights here, the power never went out--not once! This hotel is the reason we started having some fun in Coron!
It's amazing how much being well-rested in a comfortable bed, having reliable air-conditioning, and eating delicious food will do to improve the quality of a vacation!
🛏️ The room & hospitality
The room was super spacious, with a lovely comfortable bed and glorious air conditioning. Everything was well-kept and clean, and the bathroom was perfect.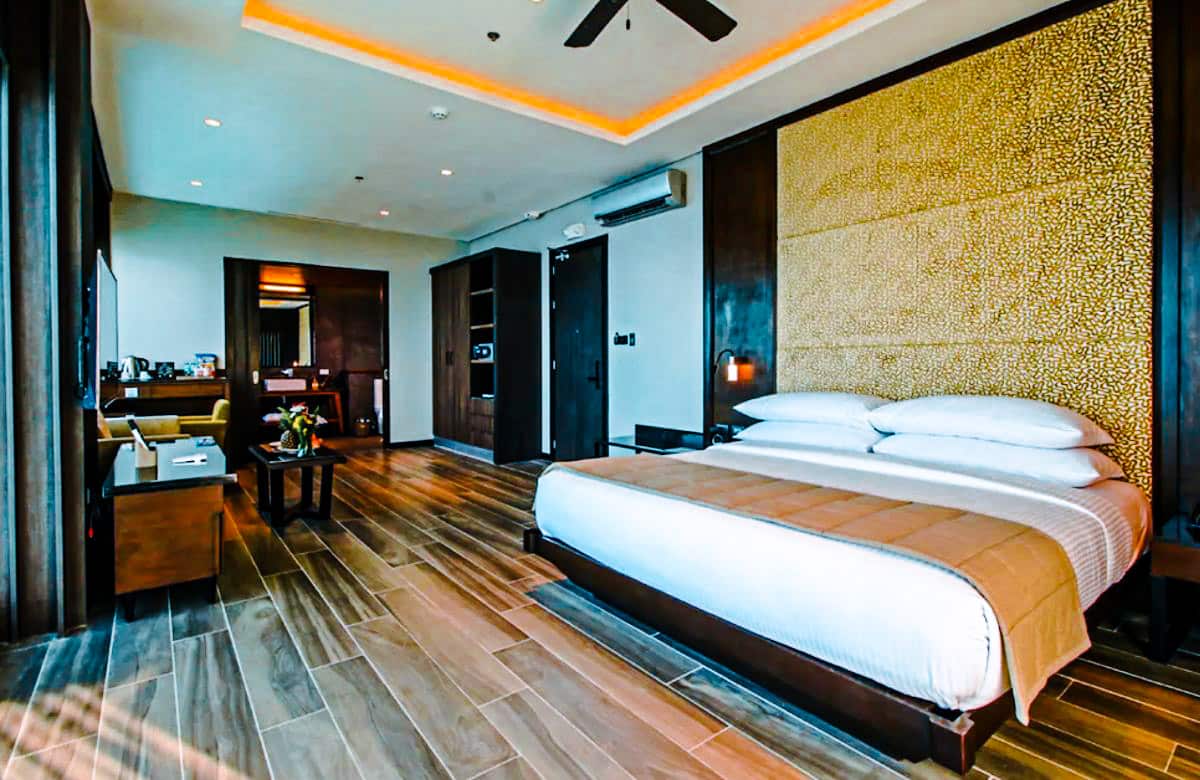 The hotel staff was welcoming, kind, and accommodating.
Whenever I travel halfway around the world for a vacation, I want a comfortable home base that I enjoy staying at. And the Two Seasons Bayside Hotel was that and more.
🍜 The food
The hotel sources local ingredients and prepares them in innovative ways that left us drooling and wanting more. I particularly enjoyed the Filipino-style spaghetti, truffle fries, and dessert.
Is it me, or does food taste even better when you have an epic view? Here's our view from our hotel balcony overlooking Coron Bay.
🏊 Activities
We spent so much of our time at the beautiful Bayside Affinity Pool. Just a boat ride away is Coron Island, where you'll find lots of activities and tourist attractions, like this Island Hopping Tour.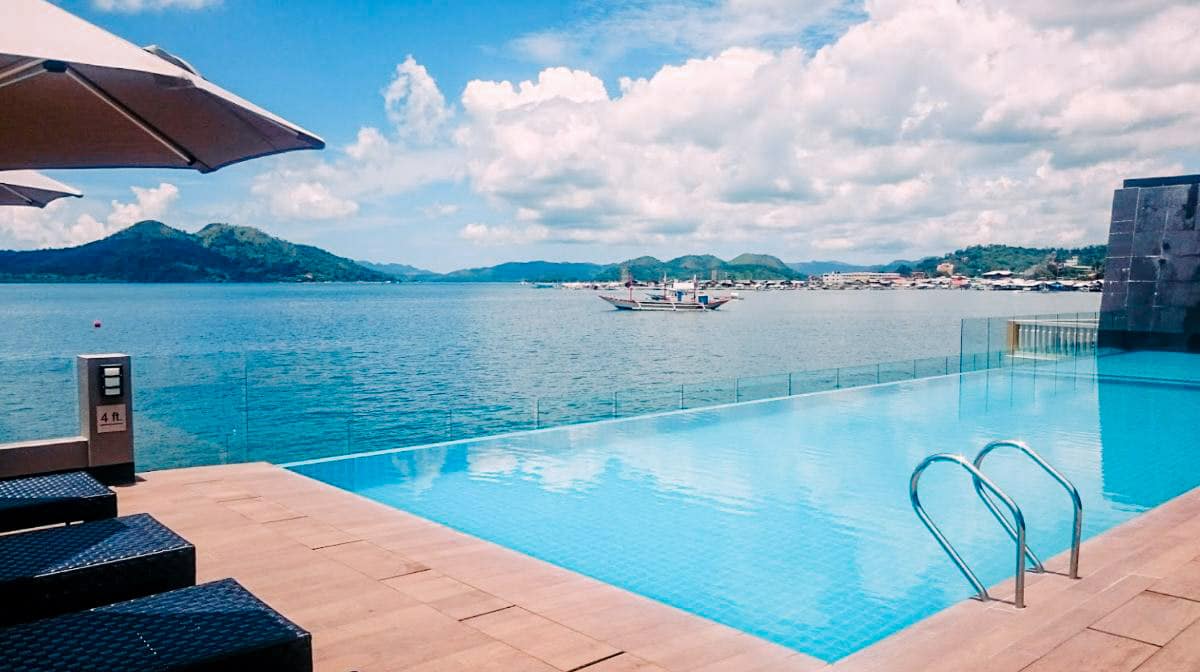 The Two Seasons Coron hotel also has a Skydeck Jazzuzi lounge for an additional fee, where you can rent a jacuzzi while watching the amazing views of the island.
💭 FAQ
How do you get to Two Seasons Coron?
To get to the Two Seasons Coron Hotel, you can catch a direct flight from Manila to the Busuanga airport. The flight is around 45 minutes. Once you arrive at the airport, the Two Seasons Hotel provides transportation to their resort in Coron Town.
🏝️ Final Thoughts on Our Stay
Besides it being a weird way to end up here with our hotel mishaps, I'm so grateful I ended up at this hotel. It really improved our trip and helped me understand that I shouldn't always be a cheapo.
Thank you, Two Seasons Coron, for such an epic stay, and I wish I had just booked it from the start.
If you're reading this hotel blog review, I promise it's worth the splurge. I mean, how often will you find yourself on this random island in the middle of the Philippines?