Deliciously creamy and full of fresh garlic and Parmesan cheese, your entire family will love this Garlic Chicken Parmesan Pasta! Even better, it's a quick 30-minute meal, so it's perfect for those busy weeknights!
Whether you're looking for a delicious meal to throw together after work or planning a special occasion, this parmesan garlic chicken pasta will be your new favorite recipe.
It's fancy enough to please guests at a dinner party, but it's also classic comfort food made with simple ingredients. Just add a big green salad and a bottle of wine for the perfect meal!
Table of Contents
Why you'll love this Garlic Chicken Parmesan Pasta
Incredibly flavorful: We're not about to skimp on flavor here. The sauce has all the best ingredients: fresh garlic, white wine, heavy cream, shredded parmesan, and more. It has layers of flavors that sing together!
Warm & filling: This parmesan chicken pasta recipe is like a hug in a bowl. It's served warm with a delicious creamy garlic parmesan sauce that will keep you full.
Family-friendly: The whole family will devour this delicious recipe without a doubt! It's not too garlicky, and don't worry, the wine will cook down and leave incredible flavor.
Quick to make: Once you have your pasta cooking, just cook some chicken and whisk together a quick sauce. Dinner will be on the table in about 30 minutes!
Ingredients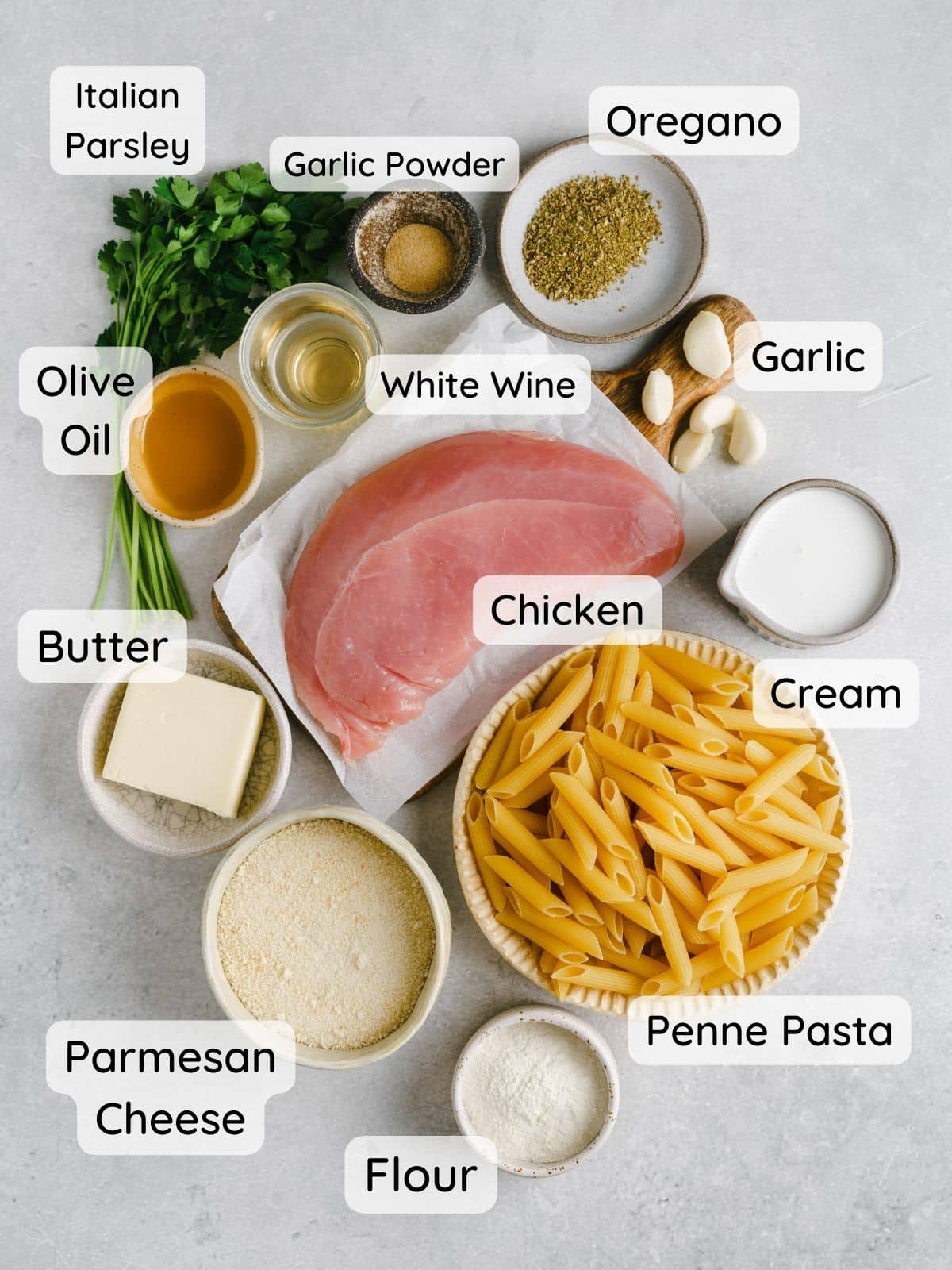 Chicken: Choose your favorite cut of chicken, ideally boneless and skinless, for easy serving. I used boneless skinless chicken breasts.
Herbs & spices: Use dried oregano and garlic powder to season the chicken pieces (no bland chicken here!).
Pasta: Boil your favorite pasta. Penne is a great choice, but it'd also be great with rotini or rigatoni.
Butter & flour: This cream sauce is made with a roux, so you'll melt butter and then cook flour into it to form a paste, which you thin out with the wine.
Dry white wine: Choosing a dry wine is important so your sauce isn't overly sweet. You can substitute chicken broth instead.
Garlic: Cut up some thinly sliced garlic. Add more or less to your heart's desire.
Heavy cream: Heavy cream will make this sauce smooth and glossy, perfect for pouring over al dente pasta. Evaporated milk and whole milk are suitable substitutes.
Shredded parmesan: Melt parmesan into the cream sauce to add that salty, savory flavor to every bite.
Olive oil: This is for cooking the chicken.
Garnishes: Top with freshly chopped parsley, a pinch of salt, and fresh cracked pepper.
Instructions
Here's a basic overview of how this recipe works. There are specific details and measurements in the recipe card below!
Season chicken with your spice mixture while the pasta cooks.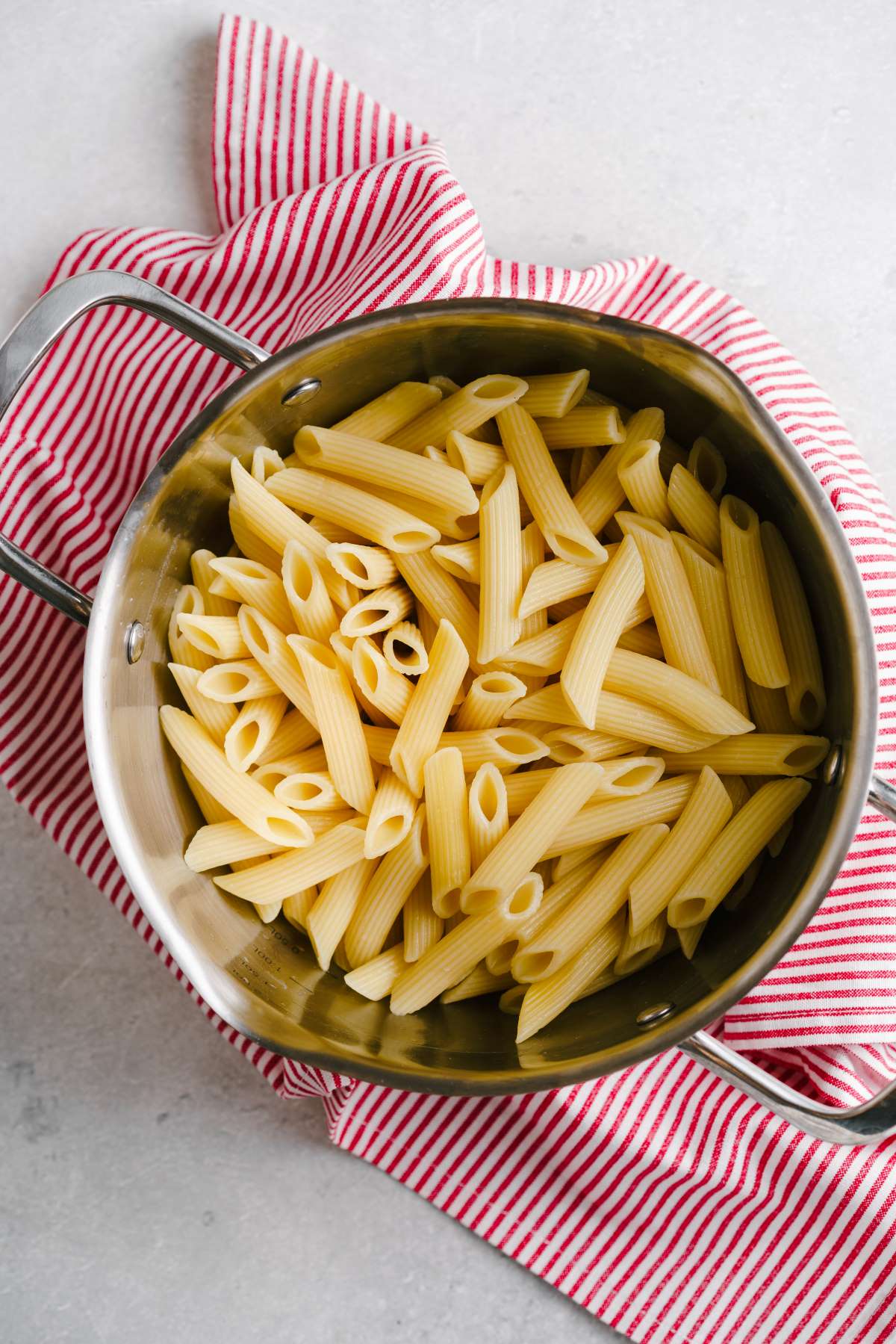 Reserve a cup of pasta water for the sauce.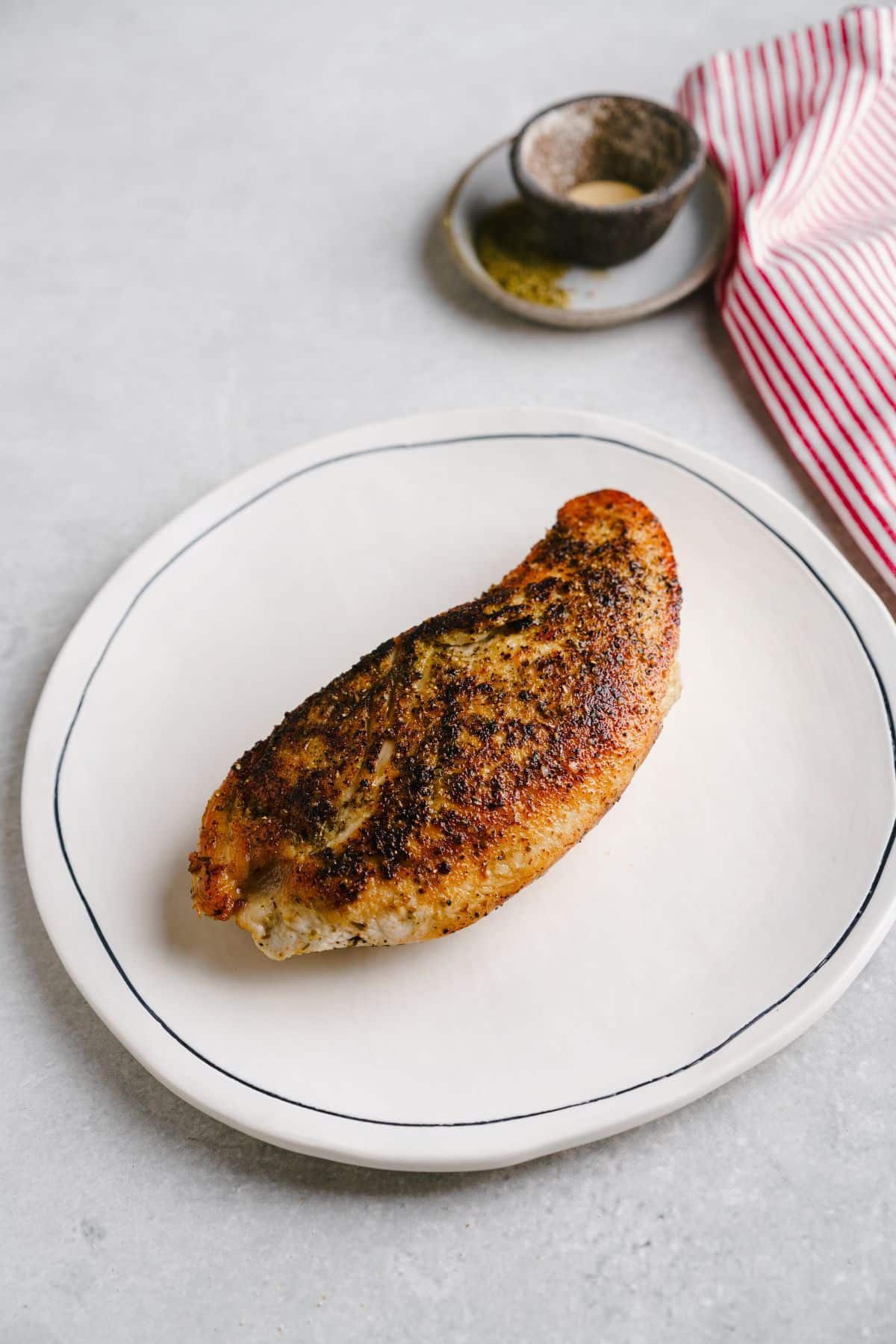 Fry or saute chicken in olive oil in a preheated frying pan until golden brown and fully cooked.
In a large skillet, make the roux by melting butter with garlic and oregano for tons of garlic flavor. Add the flour and cook to a paste, stirring constantly.
Add the white wine, scraping the pan to form a thick sauce. Add the cream, stir, and then add the parmesan.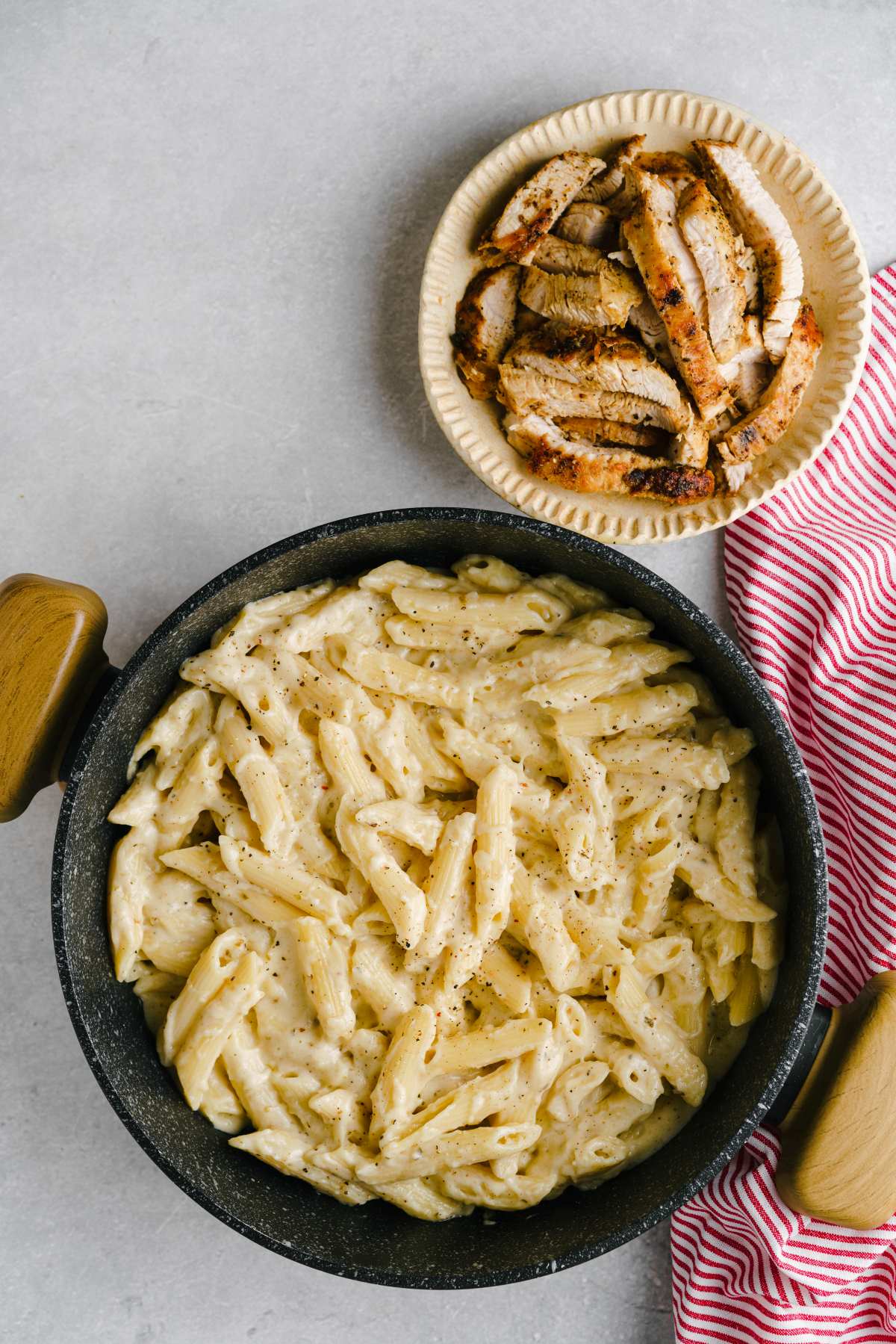 Add the cooked pasta into the saucepan to coat it evenly. Top with your cooked chicken and garnish with extra cheese and parsley. Serve and enjoy!
Tip: If you're serving this on a busy night, use leftover rotisserie chicken to save yourself a step and get dinner on the table faster!
Variations
Make it spicy. Add a tablespoon of red pepper flakes to the creamy sauce for a spicy kick.
Add sundried tomatoes. This sauce is a great basic creamy cheese sauce and would taste amazing with some diced sundried tomatoes for a punch of fruity flavor.
Drizzle with pesto: Although this easy creamy chicken pasta recipe is fantastic on its own, a drizzle of fresh pesto would add so much color and another layer of fresh flavor.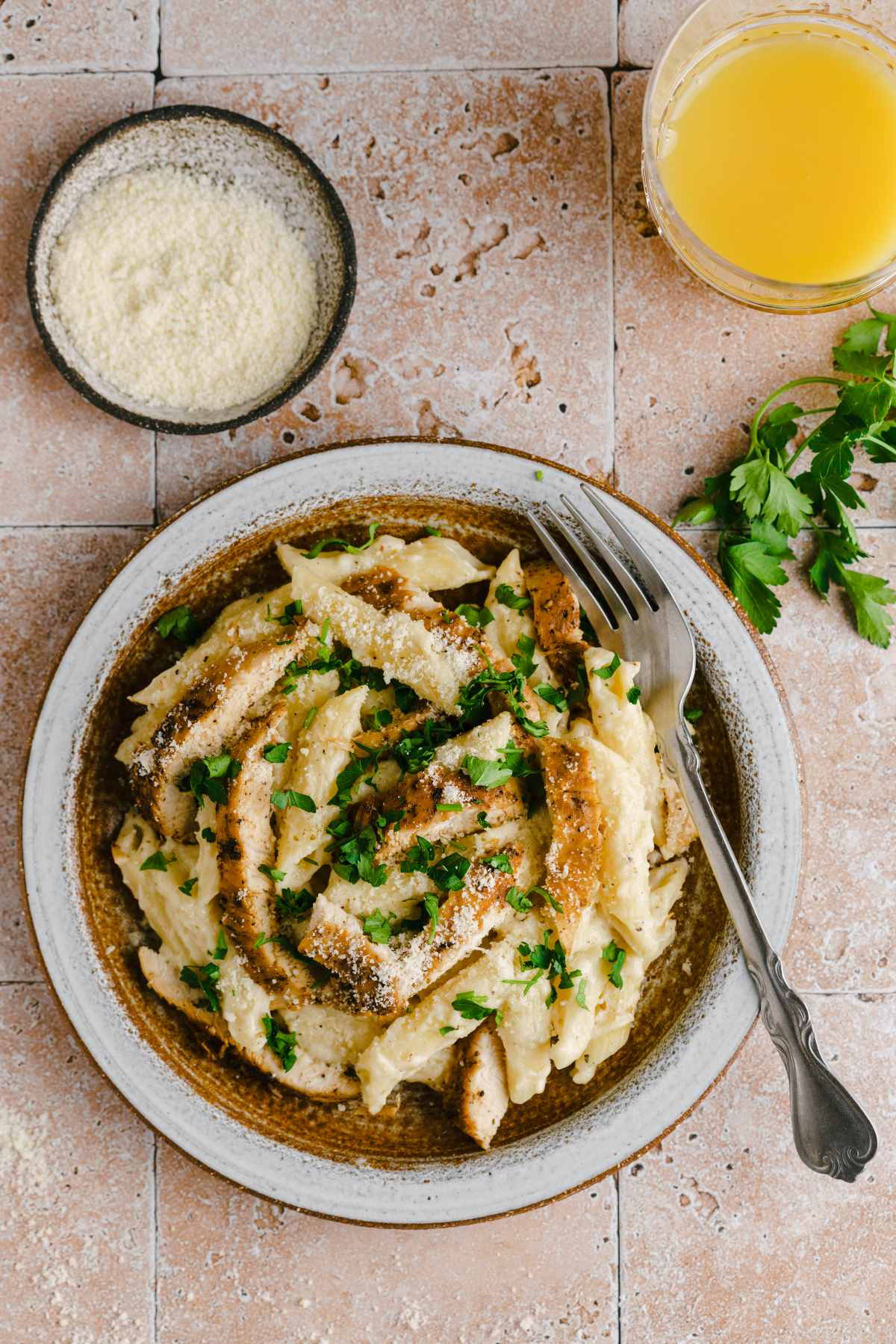 FAQs
Can I make garlic chicken parmesan pasta ahead of time?
Yes! If you're planning a special dinner and want to get a head start on this recipe, you can actually prepare all the components in advance. For best results, store them separately and assemble them just before eating.

Be careful to undercook your pasta just slightly. When you reheat your cream sauce, let the pasta continue cooking until al dente for the perfect texture.

Reheat your chicken in the microwave or oven for just a few minutes.
What is garlic parmesan sauce made of?
I like to make this creamy garlic sauce with a roux. For extra flavor, add minced garlic and oregano to the butter as it melts! Stir in some flour to create a thick paste, then thin it out by whisking in dry white wine.

You can always use water or chicken stock, but wine adds so much more flavor! Add some heavy cream, stir, and then add shredded parmesan for a deliciously creamy garlic parmesan sauce you can use on anything.
What should be served with this dish?
Since this pasta has plenty of carbs, fat, and protein from the chicken, serve it with a large green salad or sauteed vegetables, like green beans or asparagus.

It's also amazing with some pan-roasted cherry tomatoes, which soften perfectly in the oven!
Did you make this pasta dish? I'd love to hear how it goes! Be sure to leave a comment below. You can also keep up with all my travels and recipes on Pinterest at @livingtothefullestblog.
Print Recipe
Garlic Parmesan Chicken Pasta
Easy, creamy garlic chicken parmesan pasta with an easy garlic white sauce, flavorful juicy chicken, and parmesan cheese.
Ingredients
1 to 2

chicken breasts

2

tablespoons

dried oregano

-

divided

1

teaspoon

garlic powder

10

ounces

penne pasta

¾ stick (3

ounces)

butter

5-6

cloves

garlic

-

thinly sliced

3

tablespoons

flour

½

cup

dry white wine

1

cup

heavy cream

1 ½ cups

parmesan cheese

-

grated or finely shredded

2

Tablespoons

olive oil

fresh chopped Italian parsley

-

for garnish

salt

fresh cracked pepper
Instructions
Season the chicken breast on all sides with 1 Tablespoon oregano, garlic powder, salt and pepper.

1 to 2 chicken breasts

2 tablespoons dried oregano

1 teaspoon garlic powder

fresh cracked pepper

salt

Cook penne pasta until al dente and drain it. Reserve 1 cup of pasta water.

Preheat a frying pan to medium-high heat. Fry the chicken in olive oil until brown and crispy on one side. Flip the chicken and reduce the temp to medium-low. Cover the pan and cook for an additional 6-10 minutes or until the chicken has reached 165 degrees. Set it aside to rest before slicing.

Melt the butter in a frying pan over medium-low heat. Add the garlic and 1 Tablespoon oregano and cook until fragrant.

¾ stick (3 ounces) butter

5-6 cloves garlic

2 tablespoons dried oregano

Add the flour and cook, stirring frequently for about a minute to make a roux. Pour in the white wine, and simmer while scraping all the pieces from the bottom of the pan. Add the heavy cream, and start stirring actively so that the sauce becomes smooth and creamy. Immediately after that, add the parmesan and stir until it melts. Season to taste with salt and pepper.

3 tablespoons flour

½ cup dry white wine

1 cup heavy cream

1 ½ cups parmesan cheese

salt

fresh cracked pepper

Add the cooked pasta and toss it in the sauce. If the consistency is too thick, add reserved water from the pasta as needed.

Cut the rested chicken into slices and add it on top of the pasta. Garnish the pasta with parmesan cheese and fresh chopped Italian parsley. Enjoy!

fresh chopped Italian parsley
Estimated Calories:
650
kcal
Calorie counts are approximations; consult a nutrition calculator for tailored calculations.