Are you in the mood for something spicy and hearty? Look no further than this homemade chili recipe. Perfect for a cold winter evening, this chili is packed with protein and vegetables, making it a nutritious and satisfying meal. Plus, it's easy to make and customize to your liking. Let's get started!
Growing up, my family would always make a big pot of chili on cold winter evenings. We would gather around the dinner table, spooning the spicy and savory dish into our bowls and savoring the warmth it provided on a chilly evening. Now, whenever I make this chili, it brings back those fond memories and makes me feel close to my family, even if we are miles apart.
Table of Contents
Ingredients
1 lb ground beef (or substitute ground turkey or vegetarian crumbles)
1 large onion, diced
2 bell peppers, diced
3 cloves garlic, minced
1 can (15 oz) kidney beans, drained and rinsed
1 can (15 oz) black beans, drained and rinsed
1 can (14.5 oz) diced tomatoes, undrained
1 can (6 oz) tomato paste
1 cup water
2 tablespoon chili powder
1 tablespoon ground cumin
1 teaspoon paprika
1 teaspoon salt
½ teaspoon black pepper
Optional toppings: shredded cheese, sour cream, avocado, green onions, jalapenos
Instructions
In a large pot or Dutch oven, brown the ground beef over medium heat until fully cooked. If using a vegetarian substitute, simply heat through according to package instructions.
Add the diced onion, bell peppers, and minced garlic to the pot. Cook until the vegetables are tender, about 5-7 minutes.
Add the drained and rinsed kidney beans and black beans to the pot, along with the can of diced tomatoes and tomato paste. Stir to combine.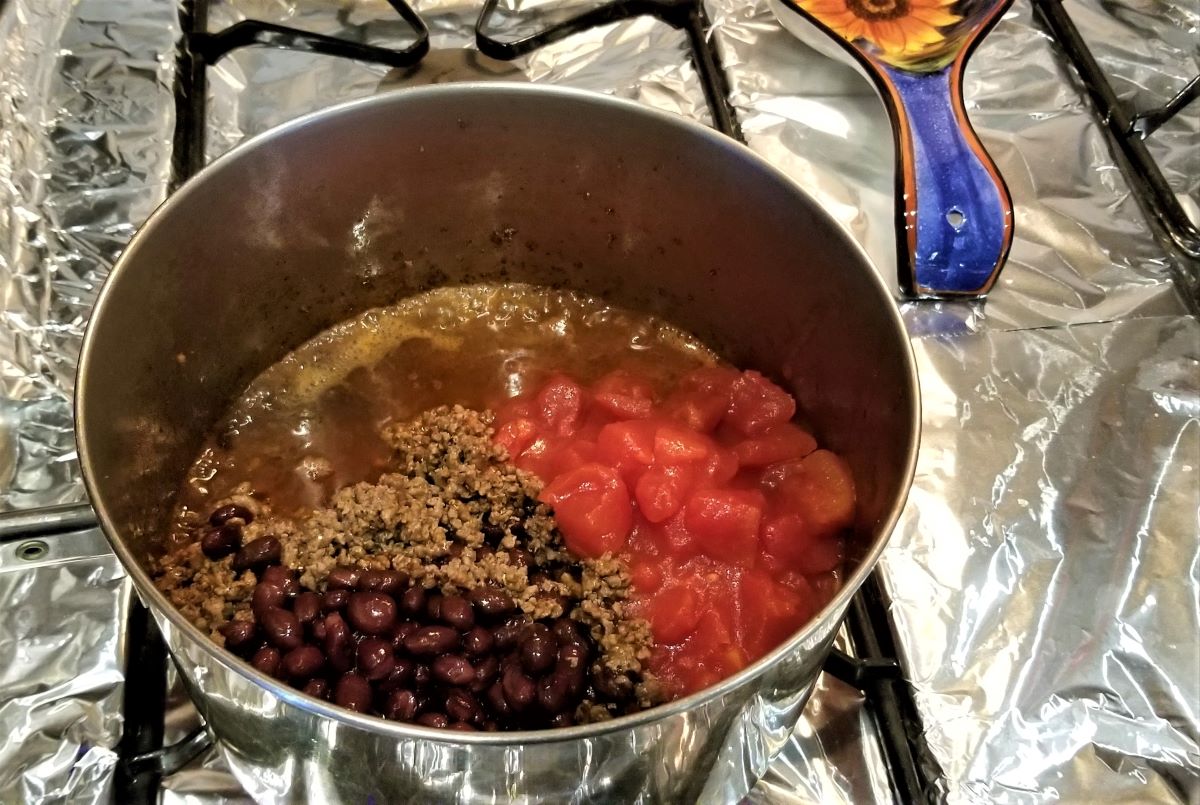 Pour in the cup of water, then add the chili powder, ground cumin, paprika, salt, and black pepper. Stir to combine all ingredients.
Bring the chili to a simmer and let it cook for 20-30 minutes, stirring occasionally. This will allow the flavors to meld together and the sauce to thicken.
Once the chili is fully cooked and the vegetables are tender, it's ready to serve! Ladle it into bowls and add your favorite toppings, such as shredded cheese, sour cream, green onions, or jalapenos.
Variations
Another thing that makes this chili special is its versatility. It's easy to customize the recipe to your liking. You can substitute the ground beef with ground turkey, vegetarian crumbles, or even omit it altogether for a vegetarian option. You can also add additional vegetables to the mix, such as corn, zucchini, or carrots, to up the nutritional content. And if you like your chili extra spicy, you can add some cayenne pepper or diced jalapenos to give it an extra kick.
Serving and Storage
But what really makes this chili special is its hearty and satisfying nature. It's the perfect meal for a cozy night in or for feeding a crowd. I love how it's packed with protein and vegetables, making it a well-rounded and nutritious meal. And the best part? Leftovers! This chili tastes even better the next day, as the flavors have had a chance to meld together even further.
This homemade chili is a fantastic meal for any occasion. It's perfect for feeding a crowd or for meal prep. You can easily double the recipe and freeze the leftovers for a quick and easy meal in the future. Plus, it's a great way to sneak in some extra vegetables and fiber into your diet.
So there you have it - not only is this homemade chili recipe delicious and easy to make, but it's also a great way to bring back fond memories and create new ones. And with its versatility and heartiness, it's sure to become a staple in your household too!
👇 Scroll Down to the Recipe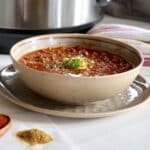 Print Recipe
Easy Chili Recipe