These fruit pancakes are the perfect breakfast! Tall and fluffy with a tangy cream sauce and tons of fresh fruit, these delicious pancakes are a flavor experience with every bite! They'll be your family's new favorite Sunday morning routine!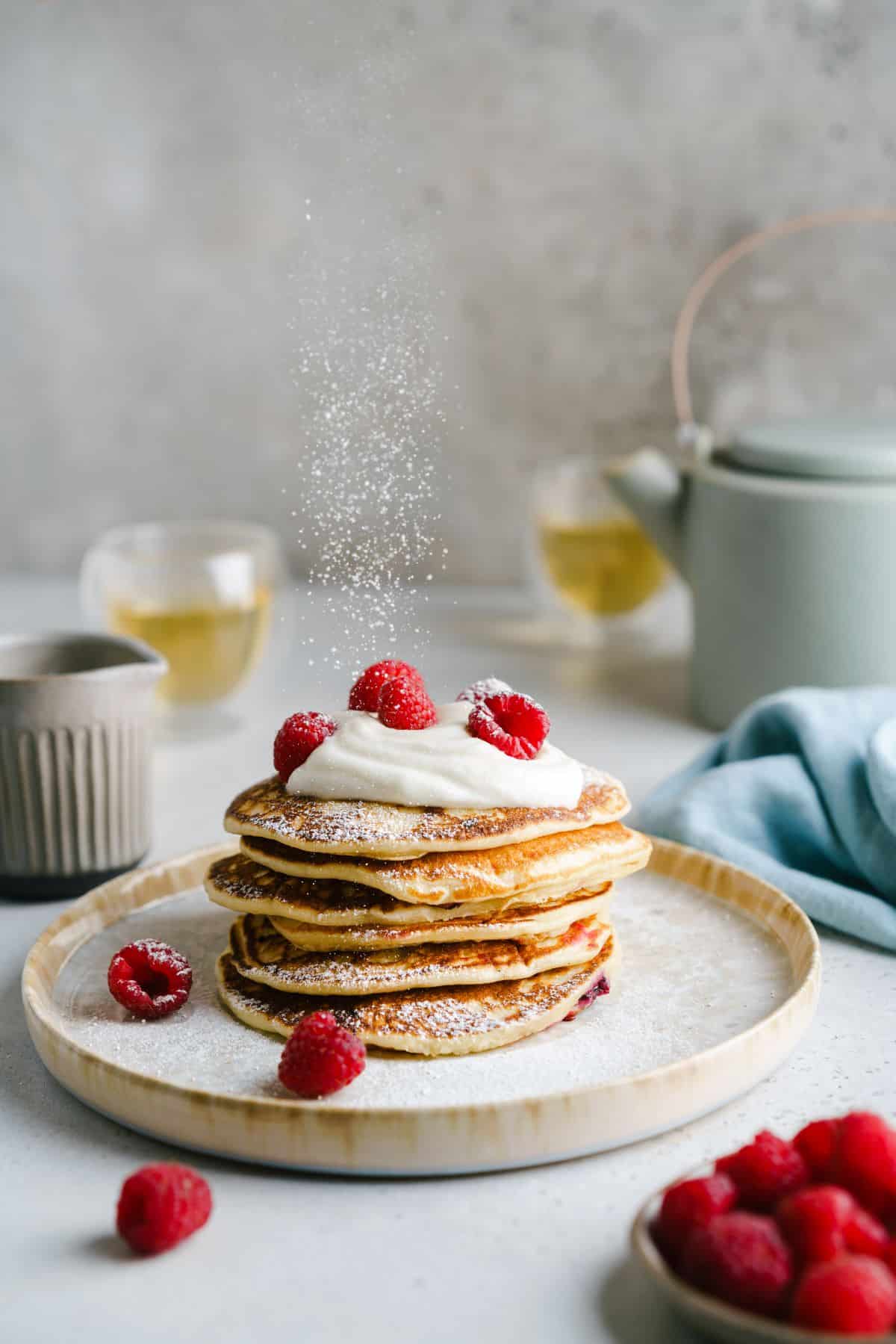 I'm a huge fan of pancakes. They come together with almost no effort, and you can easily make enough to feed a crowd. Plus, they're such a fun food to eat! I like to cut off a wedge of these fruit pancakes, spear a berry, then dunk the whole thing in a little bit of the tangy cream sauce to enjoy every flavor at the same time.
These buttermilk pancakes with fruit are the best of the best. They're perfectly tender and fluffy with a soft texture you won't want to stop eating. They're easy enough to make on the weekends for fun or to serve at a Mother's Day brunch or family breakfast (try my old-fashioned zucchini bread, too). The homemade pancakes even store well, so you can enjoy that weekend breakfast experience every day!
Table of Contents
Why you'll love these fruit pancakes
Easy: Once you assemble the pancake batter, you're mere moments away from tasty pancakes. Plus, you can adapt this recipe to use any fruit or fresh berries, so it's incredibly versatile!
Light and fluffy: Thanks to the balance of baking powder, baking soda, buttermilk, and eggs, these fruity pancakes are the lightest, fluffiest pancakes ever!
Full of flavor: Buttermilk pancakes are the perfect backdrop to a creamy sauce made with cream cheese and yogurt. When topped with fresh fruit, the pancakes and cream sauce become the perfect vehicle to let those fruit flavors shine!
Ingredients
Flour: I use all purpose flour as the base for this easy recipe.
Sugar: When serving pancakes with a sweet topping, I like to add a little sweetness to the pancake batter too. Use maple syrup if you prefer.
Baking powder: Baking powder is just one of the ways we make this pancake mix so fluffy.
Baking soda: When combined with salt, baking soda will help make the pancake batter rise quickly when it hits your griddle.
Salt: Salt both activates the baking soda and helps draw out the sweetness and flavors in these delicious pancakes.
Buttermilk: My favorite ingredient in this recipe is low-fat buttermilk, which adds a soft texture, tangy flavor, and perfect rise every time.
Eggs: Use room temperature eggs to bind the batter together and add a little extra rise.
Melted butter: The best pancakes are made with melted butter, which adds a glossiness, tons of flavor, and a fantastic texture.
Frozen berries or fruit: Frozen berries are pictured, but other fruits also work well. You'll add these directly to the pancakes on the griddle for little pops of fruit flavor.
Fresh fruit: Save your fresh fruit to top your pancakes right before serving. The sky's the limit, so use any fruit you like!
Cream cheese: To make the cream sauce, start with a little room-temperature cream cheese for a tangy flavor that will cut through the sweetness of the pancakes and the berries.
Greek yogurt: Yogurt and fruit is a classic combination, and this cream sauce takes those flavors to the next level.
Powdered sugar: You'll need just a little sugar to sweeten the cream sauce. Save a little extra to dust the top of the pancakes right before serving!
Lemon juice: This is optional, but a little fresh citrus cuts through the sweetness.
Instructions
1. In a large bowl, gently mix together flour, sugar, baking powder, soda and salt.
2. In a separate bowl, whisk together the buttermilk and eggs until small bubbles.
4. Add the butter and whisk again.
5. Pour the wet ingredients into the dry ones and fold gently. Let the batter stand for 5-7 minutes.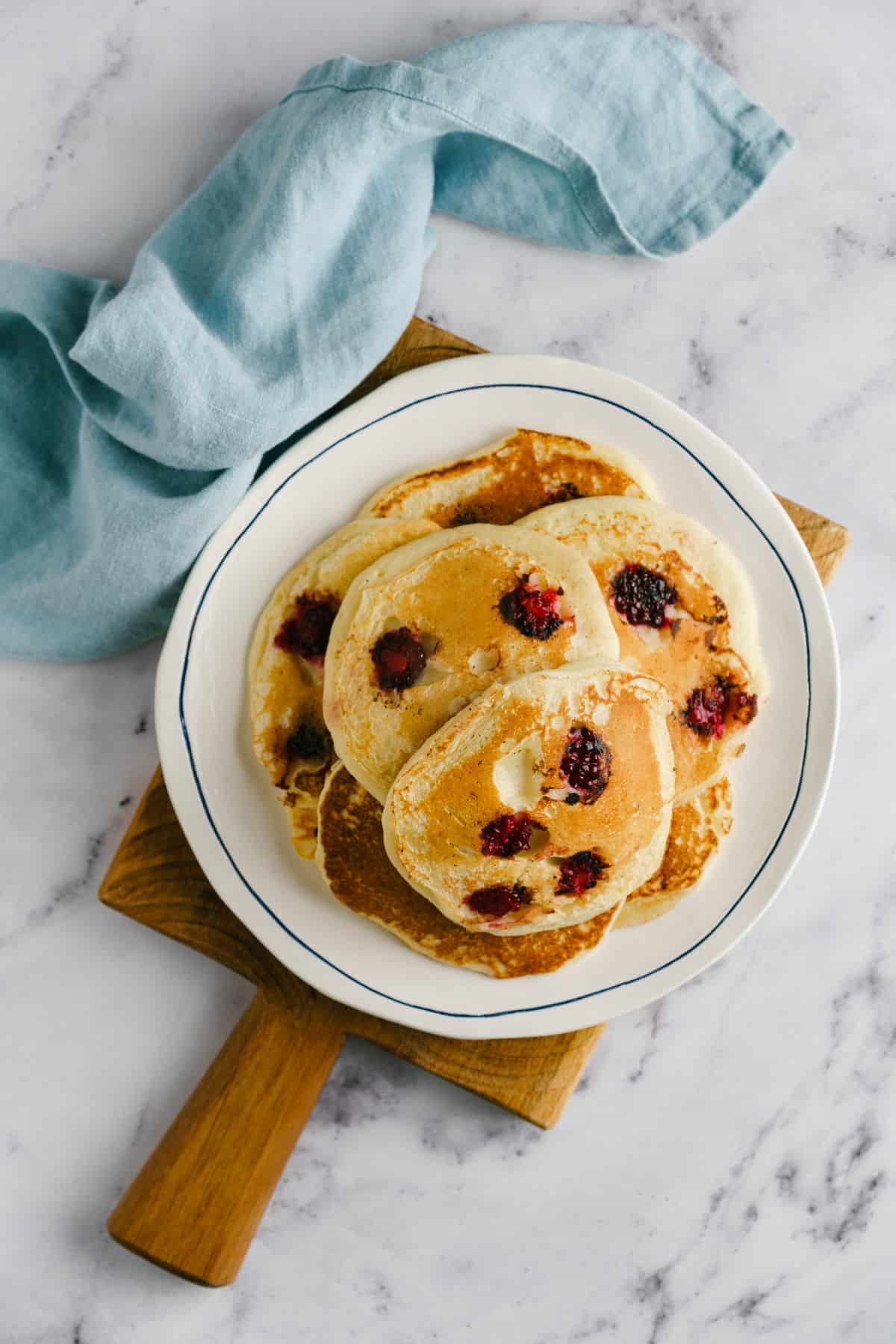 6. Cook the fruit-filled pancakes using about ¼ cup of buttermilk pancake batter and pressing fresh fruit into each pancake. Flip the pancakes when they are slightly golden.
7. For the sauce, mix the cream cheese, yogurt and powdered sugar. You can also add a tablespoon of lemon juice if you want to get a more tart taste with a hint of lemon.
Serve the pancakes with fresh fruit and cream sauce, sprinkled with powdered sugar.
Variations
Add extract. Take your flavor profile in a different direction by adding vanilla extract, almond extract, or strawberry extract for extra flavor.
Add chocolate chips. For a little chocolate flavor, sprinkle some mini chocolate chips in the batter when you add your fresh fruit, especially fresh mango or cherries.
Make apple pancakes: For a lot of apple flavor, grate an apple with your box grater before sprinkling it in the batter. Add about a teaspoon of cinnamon to the batter, too!
Make strawberry pancakes: These are a crowd-pleaser! I especially love how strawberries contrast with the creamy yogurt sauce. You can even crumble freeze-dried strawberries on top for a fun garnish.
Buttermilk raspberry pancakes: This is my favorite variation, and you can see the beautiful pops of raspberry in the pancakes! Because raspberries are so tart, they really balance the sweetness in this delicious recipe.
FAQs
What fruit goes with pancakes?
The great thing about pancakes is that go great with almost any flavor. Some of my favorite fruits to enjoy with these fruit pancakes include:
Sliced banana
Fresh mango
Juicy blueberries
Red raspberries
Strawberries
Apples
Peaches
Pineapple
Cherries
Pineapple
When to add fruit to pancakes?
This is the real question! There's an art to making fruit pancakes, and the answer really depends on the recipe you're using, the fruit you've selected, and whether the fruit is fresh or frozen.
The simplest solution is to sprinkle the fruit directly on your pancake batter when it's on the griddle. When you do this, you can use either fresh or frozen fruit, and every bite of pancake will have the perfect pop of fruit flavor.
If you add the fruit directly to the batter in the mixing bowl, you'll have a harder time getting the perfect distribution of fruit. Some pancakes will have too much, and some will have too little.
Frozen fruits can weep and stain your pancake batter, turning your white buttermilk pancake batter gray or pink.
It's a lot easier, more reliable, and more consistent to add the fruit at the very end on the griddle unless you are using a recipe for pumpkin pancakes or banana pancakes that mash the pureed fruit directly into the batter.
Are fruit pancakes healthy?
This is a great question, and the answer is that it depends. This recipe for pancakes with fruit does have carbohydrates, fat, and sugar without much protein.
I prefer to serve this as a special treat instead of an everyday breakfast. You can also serve a smaller stack of pancakes with a side of scrambled eggs and bacon for more protein. They're perfect to eat before a big hike because they really fill you up!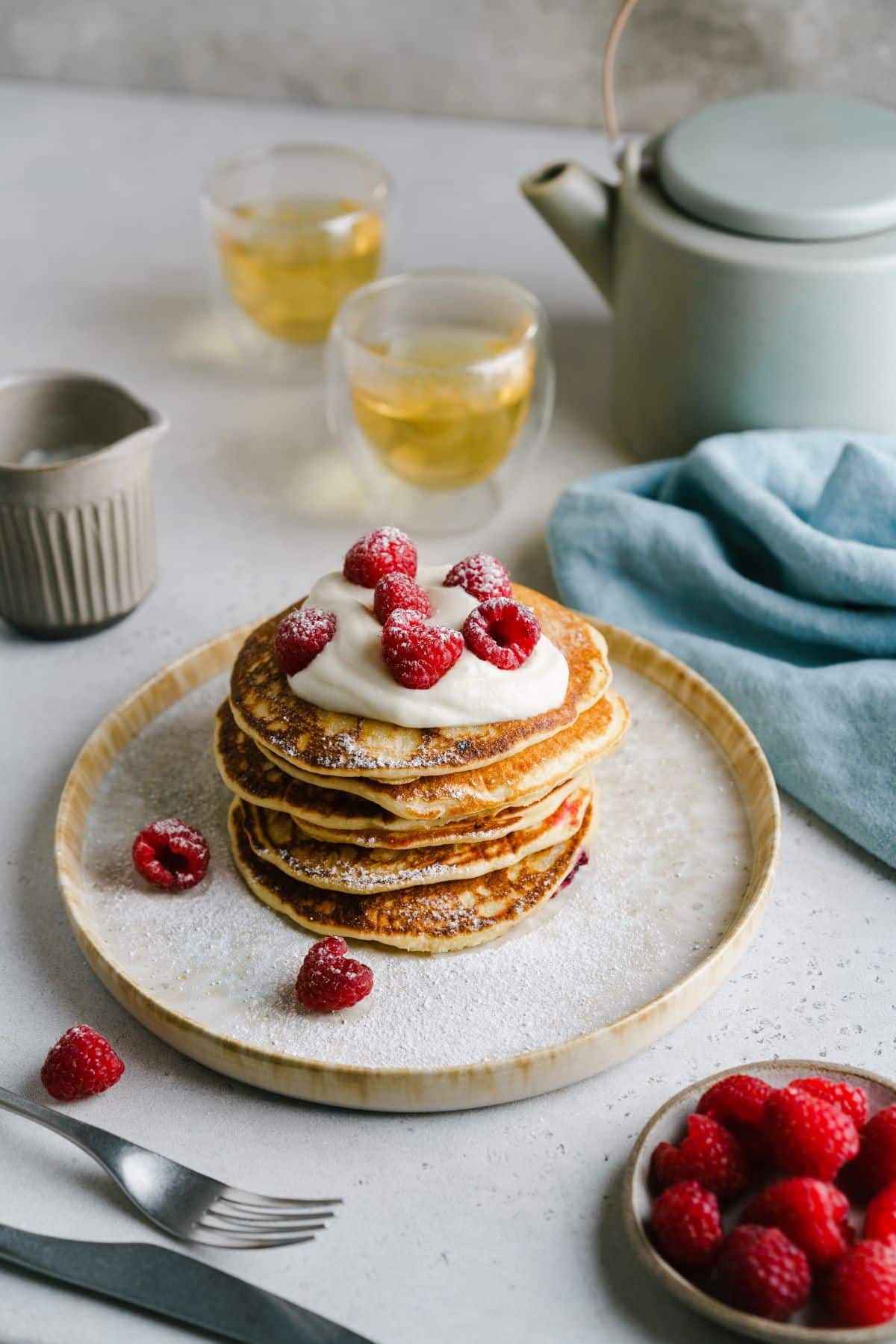 Aren't these such a fun healthy breakfast? Everyone loves a nice stack of pancakes, kids and grown-ups alike! If you get a chance to make these fantastic fruit pancakes, be sure to review the recipe and share it on Pinterest @livingfullestblogger!
Print Recipe
Buttermilk Fruit Pancakes with Cream Sauce
Tall and fluffy fruit panckaes with a tangy cream sauce and tons of fresh fruit, these delicious buttermilk pancakes are the perfect breakfast!
Ingredients
Fruit Pancake Ingredients
2

cups

flour

¼

cups

sugar

1 ½

teaspoons

baking powder

½

teaspoon

baking soda

½

teaspoon

salt

2

cups

buttermilk

2

large eggs

4

tablespoons

melted butter

a handful of fruit (frozen berrie, fresh berries, or chopped mixed fruit

-

frozen berries are pictured, but other fruits like chopped strawberries, peaches, bananas, would also work well

a handful of fresh fruit

-

to garnish the pancakes
Cream Sauce Ingredients
1

cup

cream cheese

½

cup

greek yogurt

¼

cup

powdered sugar

1

tablespoon

lemon juice

-

optional
Instructions
In a large bowl, gently mix together flour, sugar, baking powder, soda and salt.

In a separate bowl, whisk together the buttermilk and eggs until small bubbles appear. Add the melted butter and whisk again.

Pour the wet ingredients into the dry ones. With a spatula, stir in the flour so that there are no streaks. Do not stir the dough for too long, so the pancakes will be more lush. Let the dough stand for 5-7 minutes.

Lightly grease the pan with oil and heat well over medium heat. Put about ¼ cup of the batter in a frying pan, and place a few berries or pieces of fruit on top of the pancake batter. Press the fruit in lightly with your finger, and cook on one side until the first bubbles appear.

Carefully turn the pancake over and continue cooking for a few more minutes until just lightly golden brown. Repeat with the rest of the batter, sometimes greasing the pan with oil between sets.

For the cream sauce, mix the cream cheese, yogurt, and powdered sugar. You can also add a tablespoon of lemon juice for a lovely tart taste.

Serve the pancakes with fresh fruit and cream sauce, and sprinkle with powdered sugar.
Calorie counts are approximations; consult a nutrition calculator for tailored calculations.