If you are planning a trip to Sian Ka'an Biosphere, this guide will tell you all about my experience doing a Half-Day Trip to Sian Ka'an Biosphere. I found a half-day trip gave me exactly what I wanted compared to a full-day experience at the Sian Ka'an Biosphere.
How to get to Sian Ka'an Biosphere from Tulum
Technically, you can drive and enter the Reserve yourself. But since most of the cool stuff you only see from boat, I don't recommend this option. I highly recommend getting a tour guide like we did to see the Reserve. They arrange literally everything for you so you don't have to worry about a thing.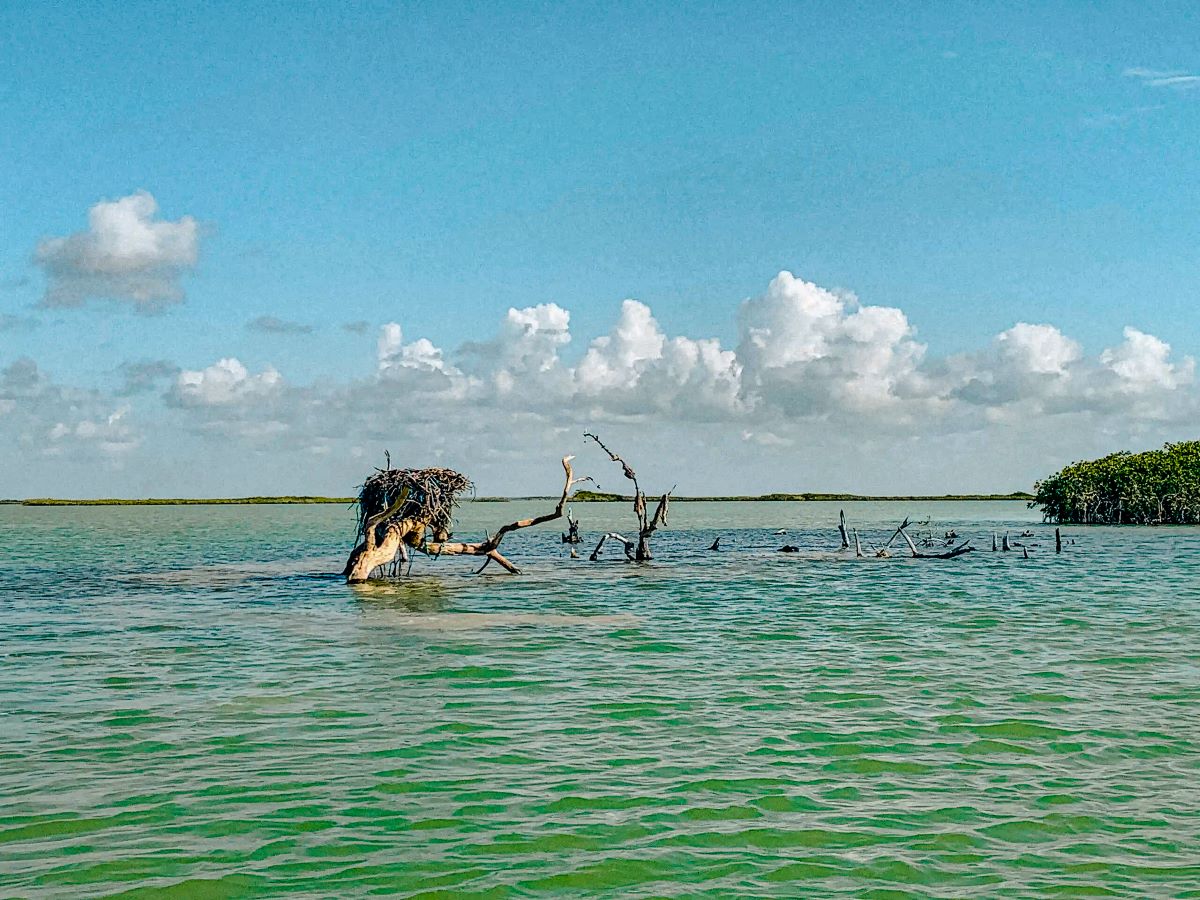 If you've been reading this blog a while, you know that I do not normally recommend hiring a tour guide. I normally find them unnecessary but this is not one of those situations. There's a lot of moving parts that you just can't do properly without a tour guide here. Like trust me, you won't be able to see the manatees without a guide. Only 20 manatees are left in the entire biosphere. We saw three of them thanks to our wonderful guide.
Full-Day Trip Vs. Half-Day Trip to Sian Ka'an Biosphere
I did a lot of research before deciding on doing a Half-Day Trip to Sian Ka'an Biosphere. If you've done any research at all on the Biosphere, you will know it's massive. You could easily explore everyday for a week and not see everything.
It's a UNESCO World Heritage Site and protected land of Mexico to keep it authentic and natural. Compared to the constant deforestation that happens in Tulum, it's a (pun intended) breath of fresh air.
I loved that we did a half-day trip though. I've done full day tours before, and by about the halfway point I normally start feeling a little burnt out. So I wanted to try something different with a half day so I actually enjoyed the whole thing. And I did!
The most important difference between the half-day trip and the full-day trip is that on the half-day, you will not see dolphins. You'll still see crocodiles, manatees, birds, and cool fish though.
The itinerary of the day
With the half day, we were picked up at 7:30am from our apartment and it was an hour drive to Sian Ka'an over very bumpy terrain. I've read other blogs that heavily emphasized not to drive your own car to the biosphere. And now I see why. Trust us, don't do it. It was super uncomfortable in the tour van. The road is incredibly bumpy and you get jostled around most of the hour ride.
Once we arrived at Emily's Secret Paradise (the meetup point with our boat driver!) we had the opportunity to use the bathroom and then walked a few minutes down to the pier where our boat was waiting. I forgot to take pictures of the entire boat (sorry!) but it was a minimalist speedboat that got the job done.
Our first stop was a huge bird area in the middle of the water. We saw probably 20 species of birds of varying bright colors - including some baby birds!
Our next stop was a part of the Mayan trading route. There was a small dilapidated Mayan ruin that was used as an observatory. Very unique!
My favorite stop was the next one. we found manatees! It took a lot of sitting silently waiting to see them pop their heads out, but it was totally worth it. I have never seen a wild manatee (I only saw one in captivity at the Winnipeg zoo before), so this was a real treat. We saw a total of three manatees! They were way too fast though, so I don't have any photos to share.
Next, we saw a hidden Cenote that was a hidden gem in the middle of the water. It was fascinating to see the way the water moved around the sparkling underground world. We also saw a crocodile in the same area and he let us get super close.
And lastly on the boat ride, we went to the spot to snorkel out in the ocean. I opted not to snorkel, but my friend did it and said it was amazing. There's live coral in the area and hundreds of fish that live nearby.
Once we got back to land it was about 1pm and we were all famished from being out in the sun all morning. We went back to Emily's and was provided with a delicious plate of vegetarian food (our request) and it was super tasty and fresh. Black beans, roasted veggies and hot tortillas which was exactly what we needed to rejuvenate ourselves.
After we finished eating and chatting, we drove back to Tulum and Alberto (our tour guide) dropped us off at our apartment at about 2pm.
Cost of our tour and who we booked with
We paid $185 per person for the private half day tour with Mexico Kan Tours. We could have done a shared half-day with other people for $140/pp but we decided to go private since it was our first big event since we got to Tulum.
And remember, the tour guides for all the companies heavily live off tips! We tipped our boat driver $20, and our tour guide $50. The amount we paid includes the vegetarian lunch we had at Emily's, transport, entry fee, boat, and our own personal tour guide. Totally worth it for the unique experience in my opinion.
Final thoughts on my Trip to Sian Ka'an
It was seriously a magical and perfect day. It was really special seeing such a unique place and to have a great guide that really taught us the history of how it came to be. The biosphere is a beautiful look into the natural beauty of Quintana Roo, and the ability that nature has to preserve itself and protect life. I would highly recommend this tour to anyone and everyone that was visiting Tulum.
Have you been to the Biosphere or are you planning a trip now? Find me on Pinterest @livingfullestblogger for more!