The Tree-Climbing Goats in Morocco are a bit of a mystery. I know there's a rumor going around the internet that they're a hoax – I assure you they are real, see my pics for proof!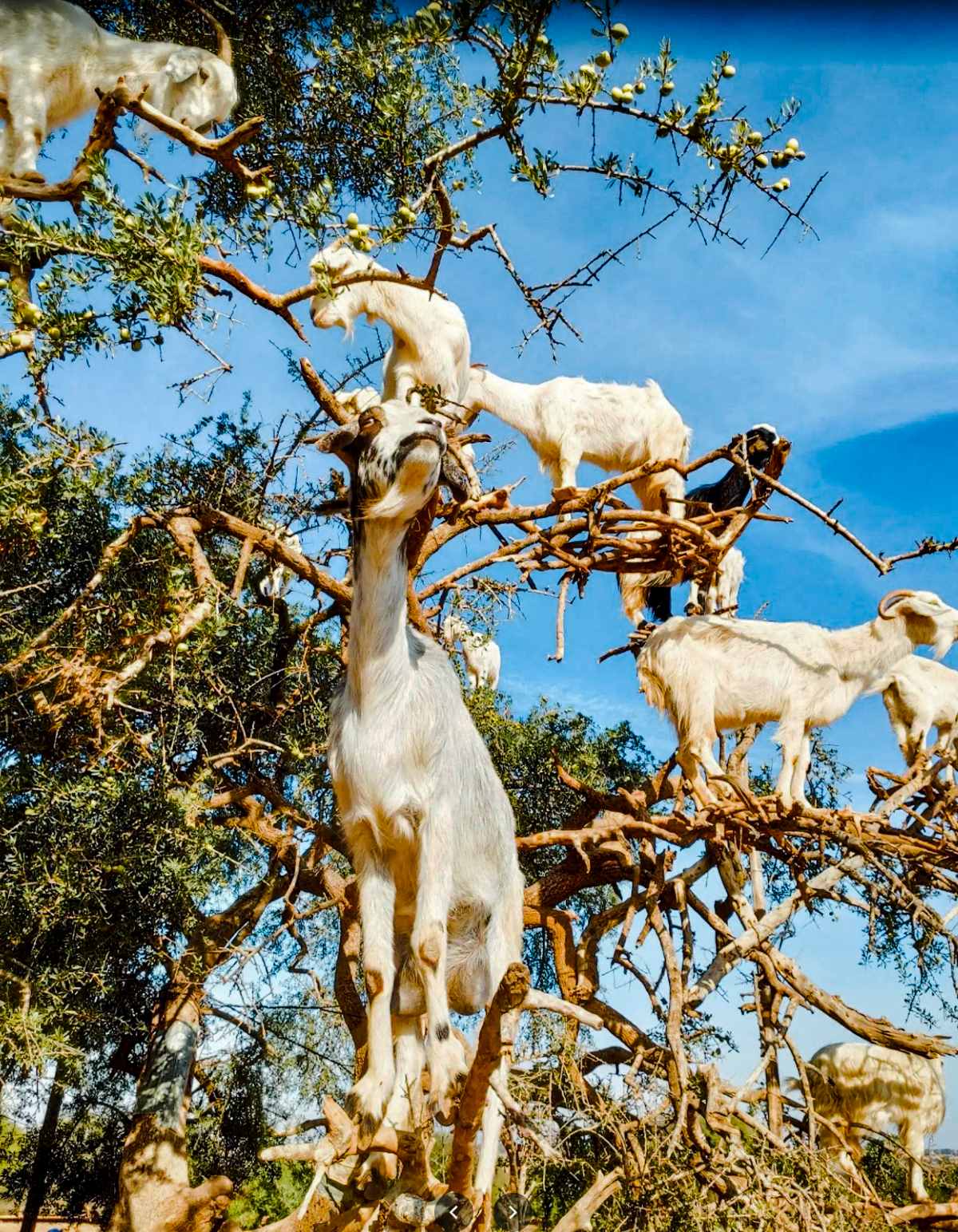 I hesitated writing this post because I can't tell you exactly where the goats are. And if you've been reading this blog for a while, you know I like to give accurate information that will help you explore with confidence.
Keep reading to see how to find them, what to look out for, and why these fuzzy bleaters are worth seeking out.
Table of Contents
Why the Goats Climb Trees
Morocco is famous for its Argan Oil, which you'll often find in cooking and cosmetics. It is the largest supplier of Argan Oil in the world, and you can get some of the most unfiltered and purest right here in Morroco.
The goats just happen to love the taste of Argan seeds! So, they climb the trees to eat the Argan Fruit. When they're done chewing off the tasty outside, they spit the seed on the ground or poop it out. And thus more Argan trees grow. Weird, but seriously cool.
Finding the Tree Goats in Morocco
I can't give you an exact pin to drive and find the goats. But they are somewhere along the road from Marrakesh to Essaouira. If you're like me, you're probably starting your journey to go to west, from Marrakesh. We did this the day after our Camel Tour in Marrakech. There's a few ways to see the goats.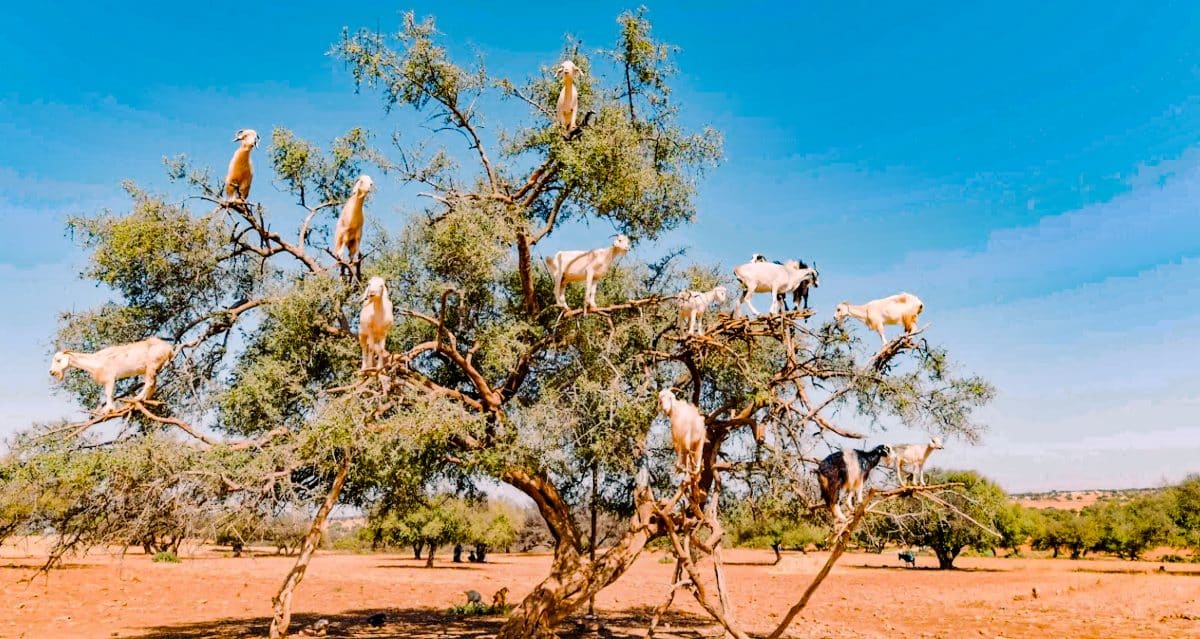 Taking a Guided Tour
You can book a goat seeing tour online. While you're in Marrakech (Particularly, the Medina) it is likely you'll run across hawkers that promise driving you out to see the goats. I do not recommend booking from someone off the street.
In my own research, the hawkers will take you to see Tree Goats but the ones that they'll take you to are literally tied to trees and can't escape. I saw tons of information and evidence of this on our journey to see the goats.
We saw a tour group and some of the visitors were upset and yelling at the tour guide. We kept a move on to find more authentic tree goats that were there of their own free will.
Where to book your tour to see the Morocco Goats
I really, really, really care about traveling sustainably and supporting the local economies as much as I can. But I also like to travel ethically. So please be responsible about where you book your tour from. I don't like supporting people who abuse animals (Literally tying them to the tree so they can't move!!) just so some tourists can get selfies.
The reason the tree goats are cool is because they do it naturally. So support ethical animal travel, please! The link above to book a tour is with GetYourGuide, who only partners with companies that prove to be eco-friendly and cruelty-free.
In my opinion, booking online with a reputable company can make or break your experience. I've done a ton of GetYourGuide Tours (I'll post about them later) and had nothing but good experiences. If you're looking for a surefire way to see the goats, and don't necessarily want to drive yourself, this is a good option for you.
Driving yourself to see the Tree Goats
This is what my husband and I ended up doing. If we had been planning to stay solely in Marrakech, we likely would have booked the tour above. But we had a car rental, and we wanted to see more of Morocco than just Marrakech.
So we read up as much as we could on the Goats, their normal locations of the tours, and decided we would do it ourselves. And I'm really glad we did! One of my favorite things to do in a foreign country is simply … drive around and see what we find. We've found some super random things this way that are off the beaten path and we always have a great time. This was no exception.
We saw quite a few argan trees with a smattering of happy goats chomping away on the route above! The first, which I mentioned above, we didn't stay long at. But the further along we went towards Essaouira, the more we saw.
Best time of year to see the Tree Goats in Morocco
We lucked out, honestly. Our trip wasn't exactly planned around seeing some goats climbing trees. We visited during July, and that is the prime time to see them! Funnily enough, we visited in July to escape the heat of Las Vegas (As we almost always do.)
Strangely, the weather in Morocco in July is pretty perfect, at least compared to Vegas. So it was nice and warm out but not sweltering. And apparently, that's what the goats like too!
Common Scam to look out for
If you arrive at a tree where you see goats and there's a farmer standing underneath it — don't stay. Keep driving and find one where there isn't a farmer. The reason for this is that it's unfortunately common for local farmers to bring their own goats and put them in the tree.
Often times the goats are tied up to the tree and immobilized. And are old/sick. It's incredibly cruel! Can you imagine if someone left you tied to a tree for 12 hours a day and couldn't move? The farmer will smile at you and offer to take your picture with the tree in the back. If you fall for it, he'll ask you for a $5-$10 tip. Don't fall for it!
This scam also has another layer. Sometimes they'll hand you a baby goat to hold for selfies. And, of course, demand a "tip." So — simply avoid the trees with only one person standing nearby.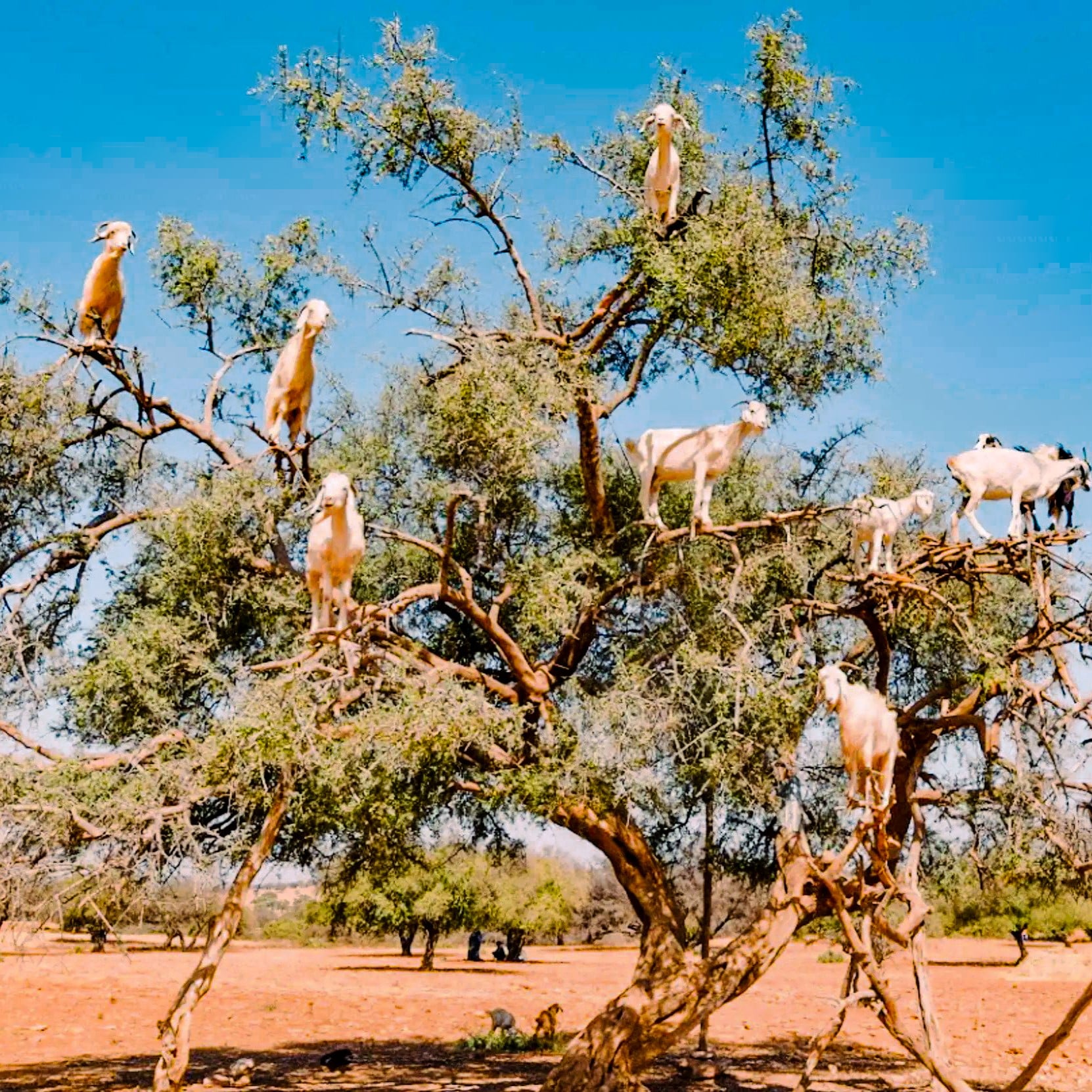 Final thoughts
This is a great way to spend a day! It is the only place in the world where goats do this, simply because of their love for Argan. I love animal-themed adventures so this was one of my favorite days in Morocco and I highly recommend it to all animal lovers!