If you're short on time and want to ride camels in Marrakech without going all the way to the Sahara Desert (A 9 hour drive from Marrakech!), thankfully there are options much more accessible. Riding camels is one of the quintessential things to do while in Morocco, and the Palm Grove in Marrakech is the perfect spot to do it.
Here's the best place to ride camels in Marrakech, tour recommendations and things you should know before riding camels.
Table of Contents
Where to book your Marrakech Camel Riding Tour
Pretty much as soon as you get into the city of Marrakech you're going to be offered camel rides. I personally prefer buying things online, where I can see reviews and some social proof that it isn't a huge scam.
If you've read my other blog posts, you know I'm a huge fan of GetYourGuide. It has pretty much everything you can imagine doing in most countries. And the tours are reliable and affordable, too. This was no exception! We booked this Camel Riding Tour and highly recommend it to anyone and everyone.
I also recommend this other blog post I wrote if you want to see the Tree Goats of Morocco. It's an excellent day trip that is outside the hustle and bustle.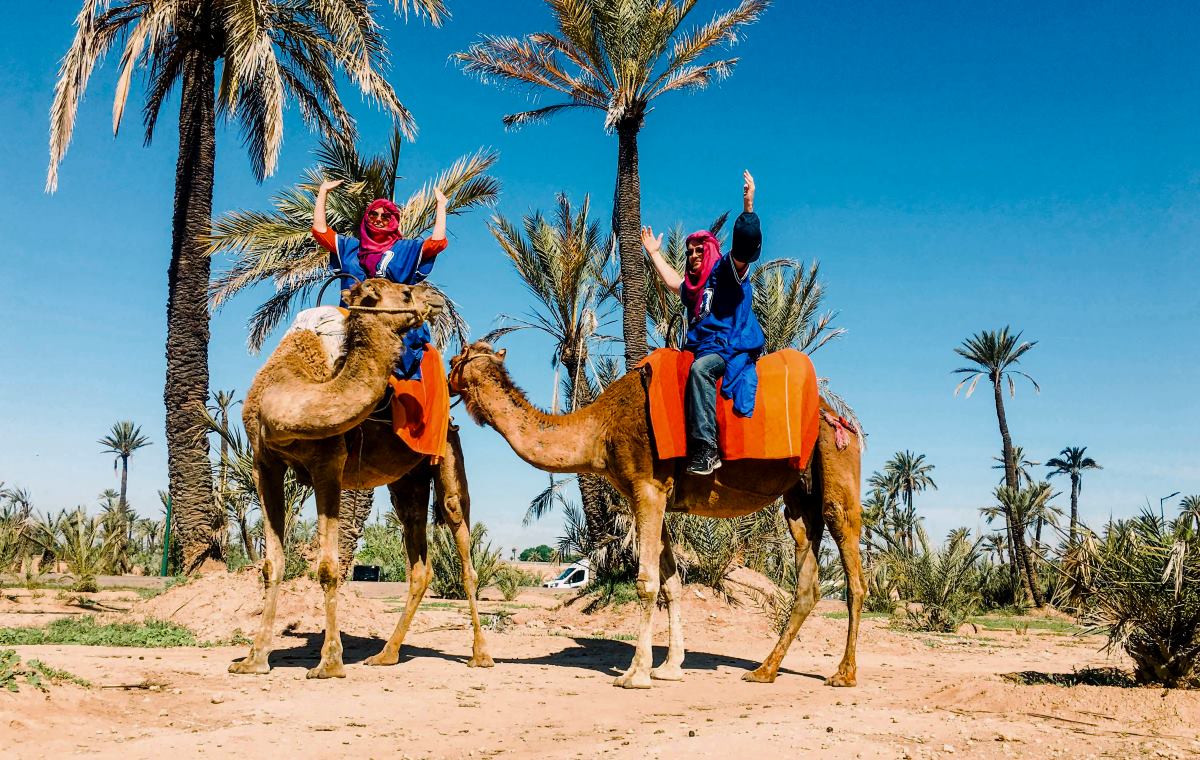 Getting to the Camels, and Safety Lessons
This is a 3 hour event or so. You can opt to have the business pick you up from your hotel, or you can just arrive. We drove ourselves because we had a car rental and booked this pretty last minute.
You'll start off with a quick safety lesson, and then be given outfits to wear to protect you from the sun and from the coarseness of the camels body. Make sure you bring water for the ride though! We did this activity in July, so it was pretty warm out.
Do you have a car rental? Drive yourself! It's kind of in the middle of nowhere (Perfect place to ride camels, though!). Make sure you have Google Maps Offline Maps enabled!
We had very little service once we actually go to the Marrakech Palm Grove. You'll know you're there because there's lots of signage, and you'll see lots of ... you guessed it, camels!
The Camel Riding Experience
After we were all safely dressed, the camels were brought to us to get on. They were definitely used to carrying people around, they plopped down so it was easy for us to get on.
My husband hated the first 30 minutes (He likes his feet firmly planted on the ground. Doesn't like riding animals, and can't swim), but as you can see from the pics, I was having a great time. He's a trooper, haha.
The ride itself lasted approximately an hour (If I were to guess. I was having a great time and wasn't paying attention). We had our own personal guide who took us around the Palm Grove and it was fabulously beautiful. I saw thousands of well maintained palm trees that were visible as far as the eye could see.
Our guide was incredibly knowledgeable and friendly and was a great companion to point out the local wildlife and things of note. He was seriously good at taking pictures too.
He had my phone most of the time we were riding the camels and he had us stop and knew all the best angles to make our camels look like the best versions of themselves, haha.
It was a really sweet gesture and we were really grateful to our guide. A good guide can really make or break an experience! His name was Ahmed, and if you do this tour, ask for him!
After the Camel Ride and Final Thoughts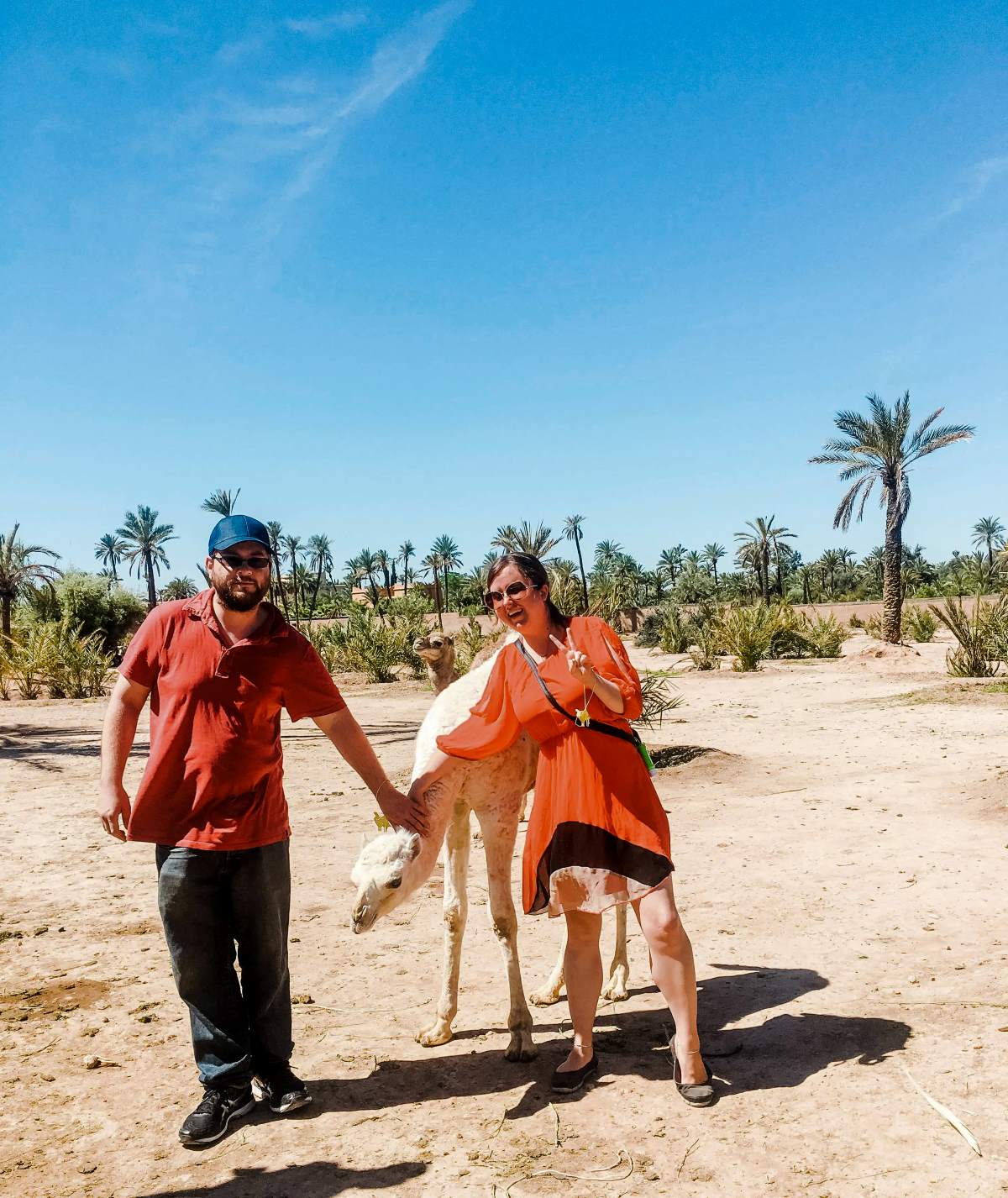 When the ride was over and our car was in sight, our wonderful guide made us authentic Moroccan Mint Tea to enjoy and there was no rush to leave. After 20 minutes of us relaxing (And Perry being happy to be back on his own two feet), our guide came back and pointed out the area where they kept baby camels that we could pet and take selfies with. I love baby camels! So, of course we did it.
I would highly recommend this trip to anyone and everyone. It was easy and safe for the whole family (We saw lots of kids riding too!), and it was a lot of fun. It was a great breath of fresh air from visiting the Medina the day prior which was just ... madness. I love relaxing little day trips, and this camel ride in Marrakech was no exception.