Atlas Film Studios is a must-see in Ouarzazate. We got a chance to tour the movie sets and had an amazing experience. In this post, I'm going to share with you how to get there and what you don't want to miss.
It's the largest film studio in Africa and has been used to make some of the best movies ever. Be sure to add this to your list if you're planning a trip to Morocco.
Table of Contents
History of the Region
The surrounding Atlas Mountains are known as "Africa's Hollywood". This is because they have been used so often by filmmakers over the years. The range was first used in 1962 when King Hassan II commissioned the construction of Morocco's first film studio – Royal Studios at Ouarzazate.
It was later renamed Atlas Film Studios, what it's known as today, in 2008.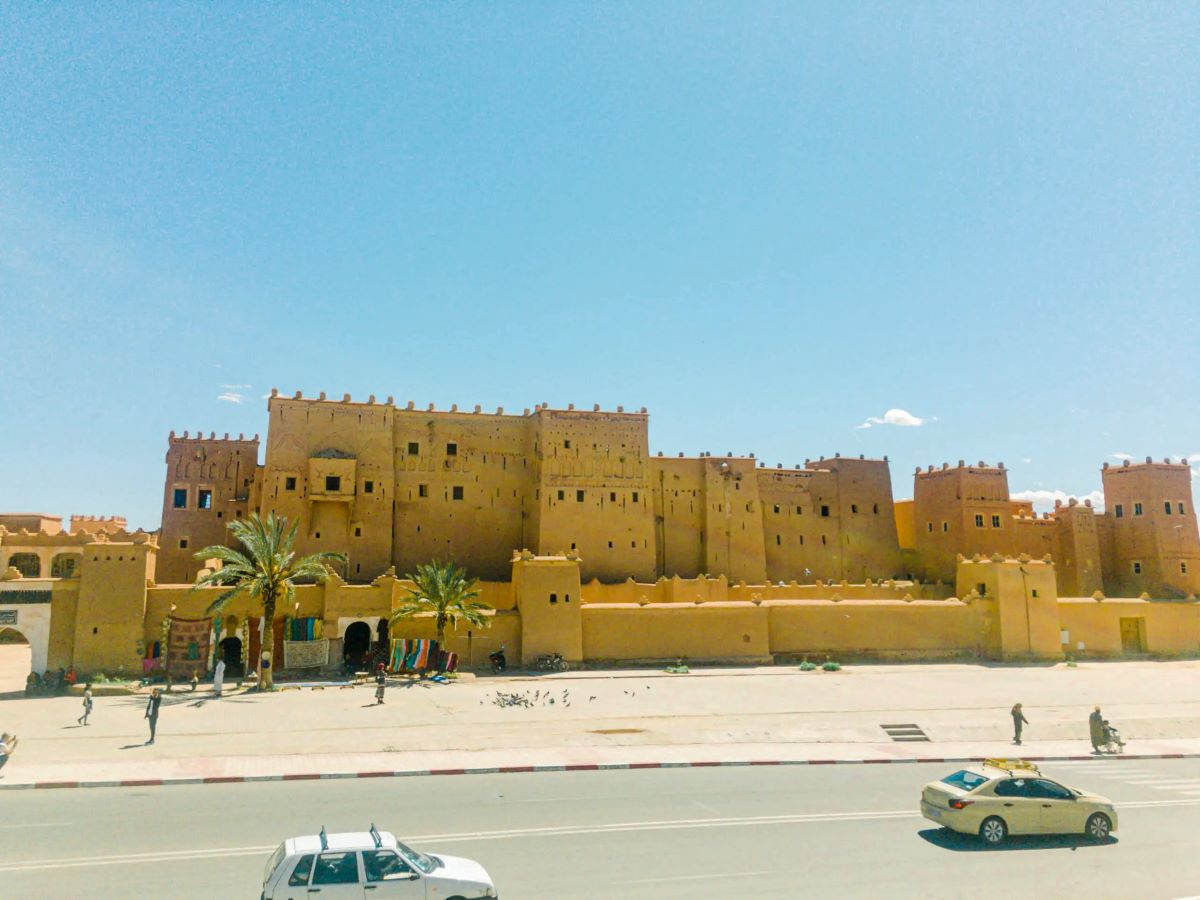 The Vibe
The studios are located in an oasis-like valley near the foot of the Atlas mountains. Surrounded by massive sand dunes that make it feel like another planet. The site also has a hotel, restaurant and gift shop so is an all-in-one trip.
The first thing you'll notice is how green everything looks; it's like being transported to another world. There are several sets that have been built on location — including a Roman villa, Egyptian pyramid complex and Greek amphitheater — but most of what you'll see are large buildings with various props inside them.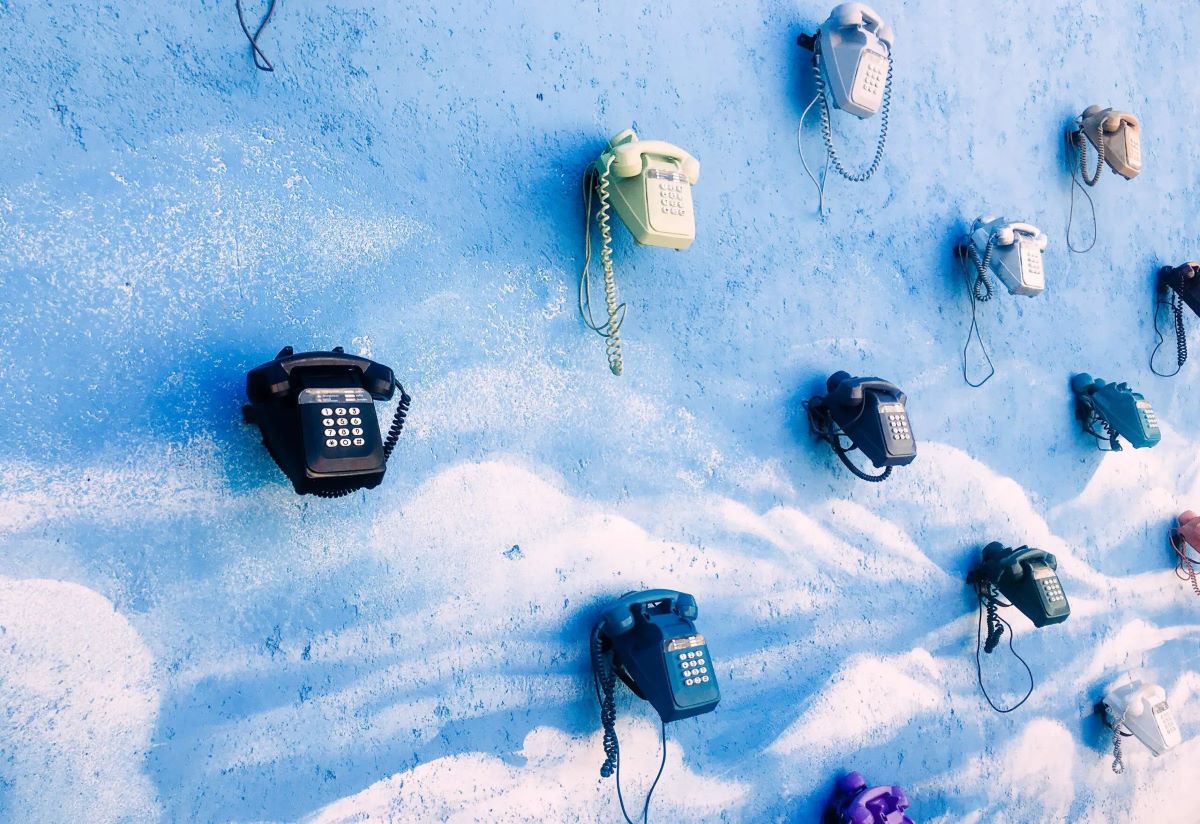 And some really great Instagrammable sets you can take photos in front of.
How to Get There
The easiest way to get there is by car. It's only about 5 kilometers (3 miles) from Ouarzazate city center so it won't take long at all by car or taxi. The road is paved and easy to navigate with clear signage, which makes it a breeze. You can also rent bikes or scooters for the day if you want a more adventurous experience!
Chances are, you'll be coming from a bigger city like Marrakesh. You can take a day tour like this one which is super highly rated and affordable if you want an easy, seamless experience. We personally drove and it was a long drive, so I'd recommend taking a tour.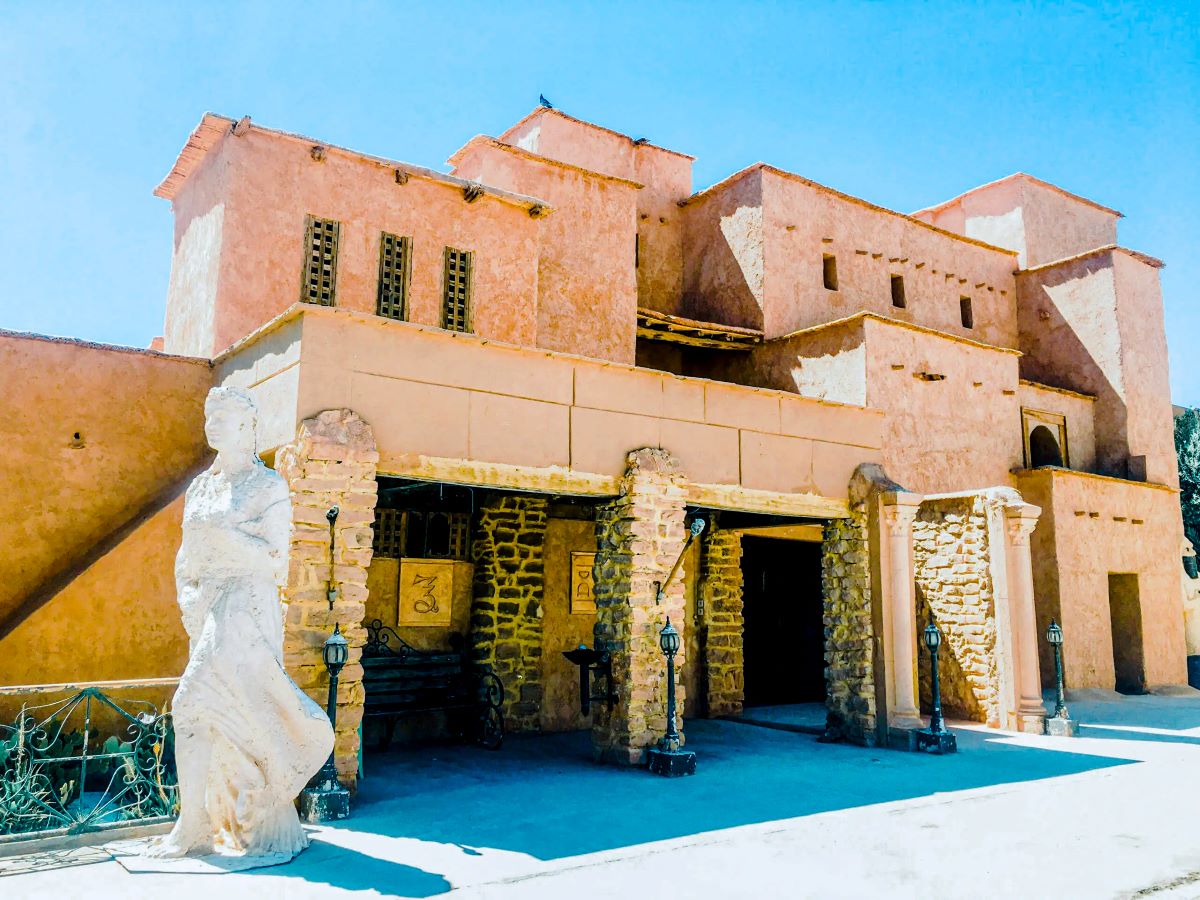 Best Attractions of Atlas Film Studios
The main attraction at Atlas Film Studios is the Atlas Studios Museum. This is where they hold daily tours of the film sets used in different movies like Gladiator, Lawrence of Arabia, and more recently Star Wars VII: The Force Awakens. There's a movie set for every type of film lover out there!
This tour costs $20 per person but it's worth every penny. It lasts about 2 hours and takes place inside one of their biggest sound stages. Fun tidbit: It was used for filming scenes from Star Wars VII: The Force Awakens!
This is a really cool place if you find yourself in this part of Morocco! I'm glad we make the trek on our roadtrip around Morocco and would highly recommend it. If you like obscure off-the-beaten-path adventures and seeing movie sets, you'll love this one.