These Chewy Monster Cookies are absolutely delicious and have all the elements of a perfect cookie - they're soft, chewy, packed with chocolate chips, and gluten-free! So let's dive in and get started.
This recipe for chewy monster cookies is perfect for anyone who loves peanut butter, oats, and chocolate chips.
I want to give a quick shoutout to Amy from Amycakes Bakes for sharing this incredible Flourless Monster Cookies recipe with us. Be sure to check out her bakery recipes for more delicious recipes from her former bakery like this one!
Table of Contents
About this recipe
I give Amy's Monster Cookies recipe a solid 5/5 rating! It's easy to make, delicious, and perfect for anyone with dietary restrictions.
It's easy to make and yields a batch of cookies that will satisfy your sweet tooth for days. These cookies are also gluten-free, so they're an excellent option for anyone with dietary restrictions.
Equipment
If you want to bake these Flourless Monster Cookies, here's a list of the equipment you'll need to get started:
A stand mixer: A fancy tool to whip up the dough to perfection. If you don't have one, you can always use a hand mixer or mix by hand (just prepare to work those muscles).
Cookie scoop: The best way to make equally sized cookie dough balls. It's like an ice cream scoop, but for cookie dough. Who doesn't love a perfectly round cookie?
By using these tools, you'll be able to make the most scrumptious, chewy monster cookies ever. And let's face it, baking is more fun when you have the right tools. So, put on your apron, grab your ingredients, and get baking!
Ingredients:
With this perfect blend of ingredients, you'll be able to create chewy, peanut buttery, oat-filled cookies that are simply irresistible.
Creamy peanut butter: The star of the show. Go for the smooth and creamy kind for the best results.
Granulated sugar: The sweet stuff that makes everything better.
Brown sugar: A bit of this adds a lovely caramel flavor to the cookies.
Large eggs: They're the glue that holds the cookies together.
Baking soda: This is what makes the cookies rise and become fluffy.
Salted Butter: It Balances out the sweetness and adds flavor.
Old-fashioned oats: These give the cookies their classic oatmeal texture and nutty flavor.
Chocolate chips: The more, the merrier! These little guys add bursts of sweetness and chocolatey goodness to every bite.
Variations
You can switch up or customize this recipe by adding some of your favorite ingredients.
For example, you can swap out the chocolate chips for mini ones or mix in some Reece's Pieces or M&Ms. You could also use crunchy peanut butter instead of the creamy kind for a different texture.
FAQ
What is the secret to chewy cookies?
The secret to making chewy cookies is to not over-bake them. Take the monster cookies out of the oven before you think they are done!

They'll look still slightly soft and undercooked, and allow them to cool on the cookie sheet for a few minutes. Then it's time to move them to a wire rack. This will help them stay soft and chewy.
If you love cookies as much as I do, you must try this chewy monster cookie recipe. They're packed with peanut butter, oats, and sweet chocolate chips, sure to satisfy any cookie cravings. So go ahead and give this recipe a try - you won't be disappointed!
👇 Scroll Down to the Recipe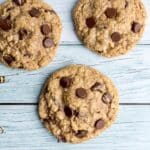 Print Recipe
Chewy Monster Cookies
These delicious, gluten-free soft and chewy Monster cookies are easy to make and packed with peanut butter and chocolatey goodness. This bakery recipe was gifted from Amycakes Bakes. So, get ready to enjoy some chewy, monster cookies that are sure to satisfy your sweet tooth!
Ingredients
2 ¼ cups (200

grams)

old-fashioned oats

1

teaspoon

baking soda

2 Tablespoons (22

grams)

instant vanilla pudding mix

-

optional

½ cup (100

grams)

sugar

½ cup (113

grams)

brown sugar

½ stick (2

ounces)

salted butter

256

grams

creamy peanut butter

2

eggs

1

teaspoon

vanilla extract

¾ cup (129

grams)

semi-sweet chocolate chips

¼

cup

additional semi-sweet chocolate chips
Instructions
Whisk oats, baking soda, and instant pudding mix (optional) together in a bowl.

Cream sugars, butter, and peanut butter together in a mixer.

Add eggs and vanilla extract, and mix until smooth.

Blend in the oat mixture and chocolate chips while the mixer is on low.

Refrigerate dough overnight or for at least 2 hours.

Preheat oven to 325°F and line a baking sheet with parchment paper.

Scoop cookie dough with a 1.5-ounce cookie scoop onto the baking sheet and press in additional chocolate chips.

Bake for 10-11 minutes until slightly golden brown. The cookies will look a little underdone but will continue to bake on the tray. Avoid overbaking!

Let cool and store in an airtight container.
Calorie counts are approximations; consult a nutrition calculator for tailored calculations.